Jaguars will let RB Maurice Jones-Drew test free agency
Maurice Jones-Drew's eight-year run in Jacksonville might be over. Jaguars general manager David Caldwell said on Tuesday that the team will let MJD test the waters of free agency.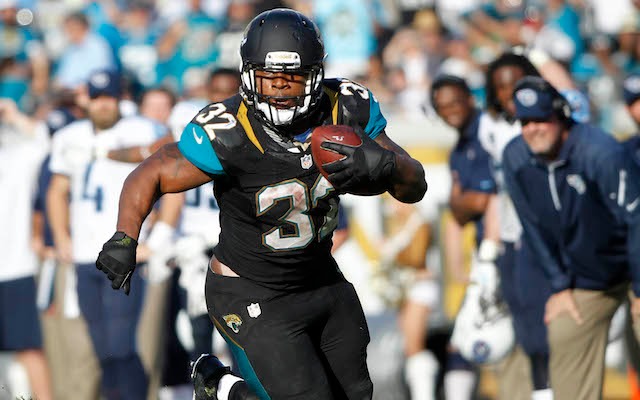 Jaguars running back Maurice Jones-Drew might return to Jacksonville next season, but there's a good chance he might not and that's because the Jaguars are going to let Jones-Drew test the waters of free agency. 
General manager David Caldwell said on Tuesday that there's little chance the Jaguars will re-sign Jones-Drew before free agency begins in March. Jacksonville's plan is to let another team make an offer to Jones-Drew and then go from there. 
"It's our right to decide if we want to match it and bring him back," Caldwell said, via ESPN.com. 
"I think he'll leave that up to his representation in terms of finding him the best value for his deal," Caldwell said. "I'm not pessimistic at all about it. I think he's earned the right to go to free agency. He's been a great player in this organization and he's had a great career and I think he's earned the right to go see what his value and his market is."
The second-leading rusher in Jaguars history, Jones-Drew said on Monday that the reason he's not re-signing with Jacksonville right now is because the team's not offering enough money. 
"I would love to see it through here, but... it's a monetary issue," MJD said, via the team's website. "That's where we are now. It's not about football anymore. That's part of this deal. It's part of the game. Hopefully, it will get done quick and I'll be here. That's the best." 
As Caldwell said, any deal between MJD and Jacksonville won't happen quick. It will either happen after free agency begins in March or not at all. Jones-Drew has been in Jacksonville since the Jaguars selected him in the second round of the 2006 NFL Draft. 
It's not clear what MJD's asking price is, but his contract that expires in March is a 5-year, $31-million deal that he signed in 2009. It's likely the Jaguars don't want to commit that kind of money to a soon-to-be 29-year-old running back who's only played in 21 of 32 games since 2012.
The Falcons won't be making a change at offensive coordinator after a disappointing season

SportsLine's Mike McClure, a DFS pro with more than $1M in winnings, gives optimal lineup...

SportsLine's top NFL experts give their top picks for Patiots-Jaguars and Eagles-Vikings
Campbell was already talking about a potential Super Bowl berth shortly after his signing

The study, published on Thursday, found that even at younger levels football can be danger...

The Eagles and Vikings have two of the best defensive fronts in the NFL