Jacksonville Jaguars wide receiver Justin Blackmon has been suspended for the rest of the 2013 season for violating the NFL's substance-abuse policy, the league announced on Friday. Blackmon will be eligible to apply for reinstatement before the 2014 season. 
The substance-abuse violation is Blackmon's second in just over six months. Blackmon missed the first four games of the 2013 season after violating the league's substance-abuse policy in April. 
"All of us who are a part of the Jaguars family care very deeply about Justin and his well-being. That said, he must be held accountable and accept the consequences announced today by the NFL," Jaguars general manager David Caldwell said in a statement. "His suspension will provide him the opportunity to receive the attention and professional treatment necessary to overcome his challenges, and we will support him during this time. The Jacksonville Jaguars will evaluate Justin's status once he has successfully met the criteria to be considered for reinstatement to the league."
Blackmon is technically suspended indefinitely, according to the league. However, a second violation generally means an eight-game suspension and that's how many games the Jaguars have left this season. So Blackmon will sit out the rest of the 2013 season before presumably applying for reinstatement next year.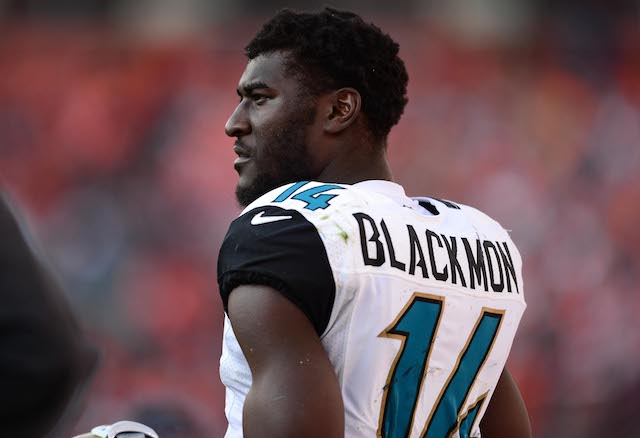 The second-year receiver had been subject to more frequent drug testing because of his substance-abuse violation in April. 
The 23-year-old had been one of the few bright spots for the 0-8 Jaguars this season. Despite only playing in four games, Blackmon was second on the team in receptions (29) and receiving yards (415). The fifth overall pick in the 2012 draft was averaging 103.8 yards per game this season, making him one of only three receivers averaging over 100 yards per game in 2013. 
Blackmon was having NFL troubles before he even took his first NFL snap. In June 2012, just two months after the Jaguars made him the fifth overall pick, Blackmon was arrested for aggravated DUI. Blackmon eventually pleaded guilty to the charge. 
The 23-year-old was also suspended for one game in college. Oklahoma State coach Mike Gundy suspended Blackmon in 2010 after he was arrested for misdemeanor DUI.