James Starks has first 100-yard rushing day for Packers since 2010
It's been three seasons since Green Bay had a 100-yard rusher. James Stark took care of that Sunday.
• 1 min read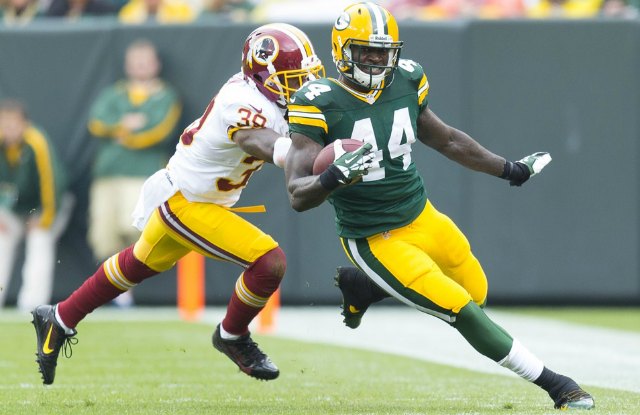 Not that the Packers needed too much help against a Redskins defense that played putridly for the second-straight week, but running back James Stark's 100-yard rushing day is the first time a Green Bay running back has rushed for triple digits in three years.
That's when Brandon Jackson rushed for 115 yards on 10 carries on Oct. 10, 2010. Only a scant 45 games (and a Super Bowl title) later, the Packers are back in the land of 100-yard runners.
Life for Green Bay's offense couldn't have gone much better.
The Packers jumped out to a 31-0 lead, and though Eddie Lacy suffered a concussion after Redskins safety Brandon Meriweather smacked him in the head on the first series, Starks picked up the slack, accumulating 132 yards and a touchdown on 20 carries for the day.
Meanwhile, Aaron Rodgers was tremendous, recording 335 first-half passing yards and, overall, completing 34 of 42 passes for 480 yards and four touchdowns.
Starks' previous career high was 85 yards on nine carries on Sept. 18, 2011.
Follow Josh Katzowitz on Google+
Here's an up-to-date look at the 2018 Pro Bowl roster

New England is 3-0 wearing white in Super Bowls under Bill Belichick

Bettors are favoring the Eagles to keep Super Bowl LII close, but the Patriots remain clear...
No one wants to give the Eagles any respect

The three-time Grammy winner will sing before Super Bowl LII on Feb. 4

Here's a look at the NFL's entire postseason schedule for 2018