Jared Allen not happy that Panthers won't let him play in NFC title game
Jared Allen isn't happy with the Panthers decision to bench him.
The Panthers' decision to keep Jared Allen out of Sunday's NFC title game isn't exactly sitting well with Allen.
The defensive end, who fractured his foot against the Seahawks last week, was slightly upset Friday when he found out that coach Ron Rivera made the decision to sit him Sunday.
Allen was officially listed as "out" on the Panthers' final injury report.
"Not happy, plain and simple," Allen said, via the Panthers official website. "Coaches' decision, and I have to live with it. I respect Coach, so I have to respect his decision.
For his part, Rivera didn't sugarcoat the situation. He knew Allen wasn't happy about the decision to keep him on the sideline.
"He's very disappointed," Rivera said. "He took it very hard, but we've got to look at this going forward as far as what's best for us, as far as the team is concerned on Sunday night."
Part of Rivera's decision was based on the fact that he would like Allen to be healthy enough to play in the Super Bowl, if the Panthers should advance that far.
"That's the thought process behind it," Rivera said. "If there's an opportunity, that would be great, especially for him."
Kony Ealy, a 2014 second-round pick, will start in Allen's place.
As for Allen, he's just hoping the Panthers can win so he can play in a Super Bowl for the first time in his 12-year career.
"Hopefully, we can get this one knocked out and be ready for the Super Bowl," Allen said. "I'll support my guys and be the best cheerleader I can be this week."
If he had been healthy enough to play, this Sunday would've been the second NFC title game of Allen's career. Allen was on the 2009 Vikings team that advanced to the NFC Championship Game with Brett Favre, before losing to the Saints in overtime.
Besides Allen, only two other Panthers players missed any practice this week -- Jonathan Stewart and Dwan Edwards. Both players were listed as probable and are expected to play on Sunday.
On the Cardinals' end, the team expects every player to be healthy for the game. Arizona had seven players listed on its injury report this week and all seven were listed as probable.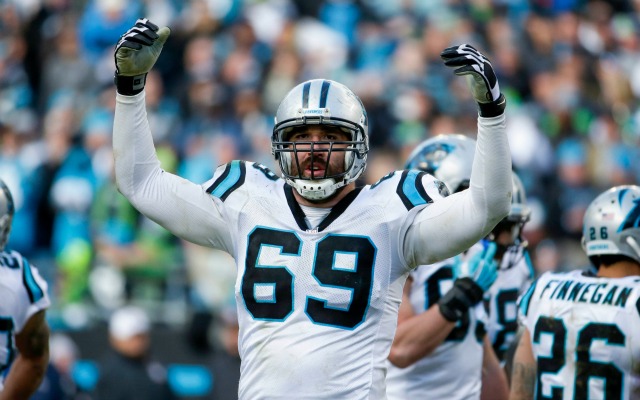 The first-year cornerback has not been active in four weeks and drew a suspension earlier this...

McCown will help the coaching staff work with Bryce Petty and Christian Hackenberg

The Browns have a long way to go to be AFC North champs
Five selections against the spread for the upcoming Week 15 slate of NFL games

Here are 10 things to watch in Week 15, including a hot Bortles, a cold Brady and a new Eagles...

A couple of potential playoff teams have trouble covering against cellar dwellers in Week...