Jared Lorenzen weighs 320 pounds, still playing QB
Jared Lorenzen is large, in charge and playing quarterback in the CIFL.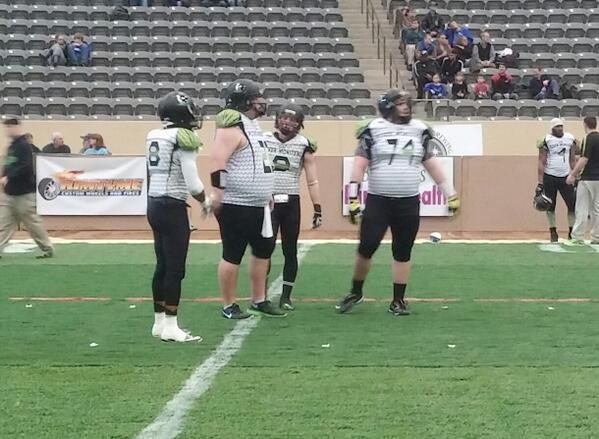 Perhaps you remember Jared Lorezen? The big lefty quarterback dominated at Kentucky and made his way into the NFL where he won a Super Bowl as Eli Manning's backup with the Giants. So what's he doing now?
Oh not much, just weighing 320 pounds (second from left in above photo), playing for the Northern Kentucky River Monsters of the Continental Indoor Football League and trending on Twitter because of some amazing clips that emerged on the Internet:
GOOD GOD, MAN. He is large and in charge. I could watch that all day. But wait! There's more!
It's just ... so beautiful.
Credit to Jim Rome for the best line of the night ...
Can't stop watching these Jared Lorenzen clips. The XFL had He Hate Me. The CIFL has He Ate Me.

— Jim Rome (@jimrome) February 4, 2014
... and perhaps enough to put Lorenzen over the edge when it comes to trending on Twitter.
The Jags were laughingstocks as recently as this summer; now they're 60 minutes from an AFC...

The Jaguars are poised for the biggest upset in recent playoff history

The Broncos may have tipped their hand as to which player they're targeting at No. 5
The Steelers didn't have to look far to find their replacement for Todd Haley

The pop superstar will seek halftime show redemption at Super Bowl LII

Our computer model simulated the AFC and NFC title games 10,000 times with surprising resu...