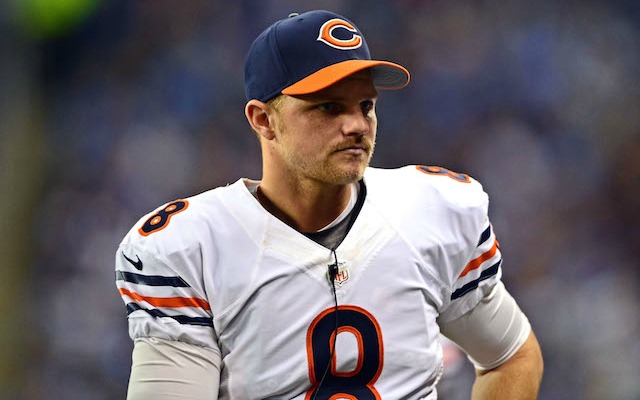 It's one thing to get benched, it's another thing entirely to get benched for Jimmy Clausen. Just to refresh your memory, here's the quarterback who will be playing instead of Jay Cutler for the Bears on Sunday.
Jimmy Clausen has the hair of a man ready to Challenge Freiza pic.twitter.com/Xjokn10Ccv

— Bills 8-6 (@GritzBrown) June 5, 2014
Jimmy, Y U NO go back to speedo swimming? "@thefantasygreek: #Panthers have released QB Jimmy Clausen.. pic.twitter.com/9RYdTLYx5f

— Y U NO Football (@Y_U_NO_FFB) August 31, 2013
If you think those pictures are bad, wait until I tell you about Jimmy's career stats.
The former second-round pick has started a total of 10 games in his NFL career and he's 1-9 in those games. That's not even the ugly part though because his career numbers are actually uglier than that 1-9 record might indicate. 
Clausen's never thrown for over 200 yards in a game, he's never thrown multiple touchdown passes in a game, he's thrown an interception in seven of his nine starts and he's only completed over 60 percent of his passes one time in those nine starts -- all of which came with the Panthers. 
Marc Trestman is starting this guy over Cutler, in case you're wondering where Cutler stands in Chicago right now. 
To give you an idea of what to expect on Sunday, here's a look at the three worst games from Clausen's career and let me tell you that picking the three worst games wasn't easy because they've basically all been bad. 
Clausen's Bottom Three
1. In one of the ultimate cosmic coincidences of all-time, the worst game of Clausen's career actually game against the Bears in 2010-- AND CLAUSEN WAS BENCHED IN THE GAME. I know, this all seems impossible to believe, but it happened. Clausen went 9 of 22 for 61 yards and an interception before Panthers coach John Fox decided he had seen enough and pulled Clausen. 
The best part about this game is that even though the Bears quarterback threw four interceptions, Chicago still won 23-6.
So who was that Bears quarterback who threw four interceptions? You want me to say Jay Cutler, but it wasn't, it was Todd Collins. Collins was starting for Cutler, who missed the game because of a concussion. 
2. In Week 16 of the 2010 season, the Panthers lost 27-3 to the Steelers and things were ugly for Clausen. Clausen actually got off to a hot start in the game, going 4 of 5 for 27 yards on Carolina's opening drive. However, things quickly fell apart after that. Clausen went 6 of 18 for 45 yards after the opening drive and also threw an interception. Clausen finished 10 of 23 for 72 yards in the game.
3. In Week 14 of the 2010 season, the Panthers offense was so bad against the Falcons that Clausen actually apologized to Carolina's defense after the game -- that pissed off wide receiver Steve Smith who thought Clausen should have been apologizing to the offense. 
"If you're going to apologize, you know, you should apologize to the people in the huddle with you," Smith said after the 31-10 loss. "He has a lot to learn. He ain't at Notre Dame anymore that's for sure."
Clausen finished the game 14 of 24 for 107 yards and he also threw an interception. 
In Clausen's defense, he did play for some bad Carolina teams, but the fact that the Panthers were bad was partly his fault. 
Based on Clausen's history, there's a good chance he'll struggle this Sunday, let's just hope there's a camera on Jay Cutler so we can see his reaction to every bad throw.