Jay Cutler not happy Jordan Palmer signed with Bears' Week 1 opponent
Former Bears quarterback Jordan Palmer signed with the Bills this week, a situation Jay Cutler calls, 'Not ideal.' Chicago just happens to open the season with Buffalo on Sept. 7.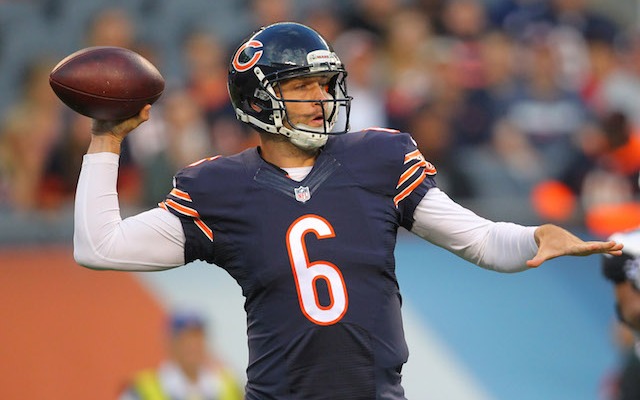 When the Bills travel to Chicago for their regular season opener on Sept. 7, they're going to have a secret weapon with them: Backup quarterback Jordan Palmer. 
Palmer spent all of training camp competing for the Bears' backup quarterback job before being released on Monday. The 30-year-old landed on his feet though and he just happened to sign with the very same Bills team that the Bears will be playing in Week 1.
And yes, the Bears have noticed. Starting quarterback Jay Cutler admitted this week that Palmer will definitely be able to give the Bills defense 'a few things.'
"It's not an ideal situation," Cutler said, via the Chicago Tribune. "It's not exactly what you'd want. He can give them a few things I'm sure. He'll be meeting with [Bills defensive coordinator Jim] Schwartz pretty much immediately."
Cutler then elaborated on some of the 'things' Palmer could help the Bills defense with. 
"He knows snap counts, some of the stuff we do with some of our checks, what plays we like," Cutler said. "But they still have to defend it. So I don't think we'll change much if anything. Maybe a few tweaks here and there. But we'll just have to go play football."
For what it's worth, Bills coach Doug Marrone said on Wednesday that he didn't sign Palmer just to get inside information on Chicago. 
"I'm not part of that, 'Hey, let's bring the guy in and get information and things like that,'" Marrone told Syracuse.com. "I think that'd be very disrespectful to Jordan if I did that, honestly."
Marrone might actually be telling the truth. Before Palmer was cut by the Bears this week, the Bills coach made it clear that he wasn't happy with his quarterback situation. 
"They either have to play better or we have to look to see if there's someone that can better that position, like we would any other position," Marrone said on Monday. "If we feel at the end of the day that it's not good enough to win with -- which we haven't seen that yet -- there's only two ways to go."
Since Marrone made those comments, the Bills have dumped backup quarterbacks Thad Lewis and Dennis Dixon, while adding Palmer. 
Salary deferrals make identifying most lucrative contracts from year-to-year complicated

The Titans' best player has had the worst season of this NFL career in 2017

By 2018, Dalton's price tag will be too expensive, so the Bengals pick Baker Mayfield to usher...
The offensive line, run game, and receivers have been worse as well

Quin now spends his free time reading books and hanging out with his family

Here are the 12 teams we are projecting to make the NFL playoffs heading into Week 15