Jay Gruden on RG3: 'I see a ton of talent ... I'm excited to coach him'
On Thursday, Jay Gruden became the Redskins' eighth coach in the 16 seasons Dan Snyder has owned the team. He held a press conference Monday to give his blueprint for success in DC.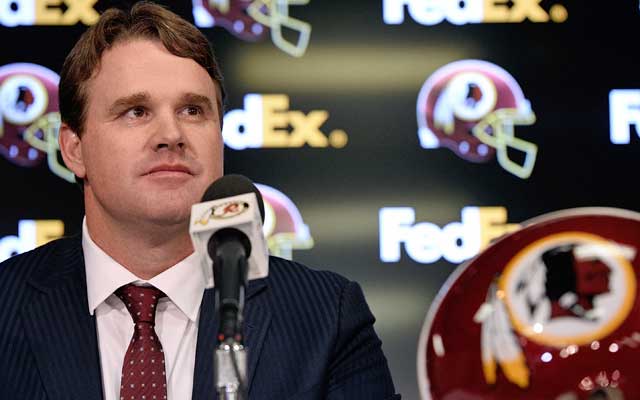 More NFL: Coaching change tracker | Latest coaching news
On Thursday, Jay Gruden became the Redskins' eighth coach in the 16 seasons Dan Snyder has owned the team. The former Bengals offensive coordinator held a press conference Monday afternoon where he touched on everything from Robert Griffin III, dysfunction in the previous regime and how exactly he will make the Redskins a winner.
"It's an exciting day for the Washington Redskins, and an important day for our upcoming season and our future," general manager Bruce Allen said during his introductory remarks.
"We are looking for new leaders. Somebody who could inspire our football team. We knew it was more than just Xs and Os, it was about finding the right person to build team chemistry that we needed. We needed someone who would be a good teammate to the coaches, the organization and the players in the locker room.
"... Fortunately for us, the San Diego Chargers beat the Cincinnati Bengals and we were able to bring Jay in."
Below are the highlights from Gruden's first press conference as the Redskins' coach.
Q: Why was the Redskins job attractive?
Gruden: This opportunity is a once-in-a-lifetime deal and I will do my best to make sure that I put a competitive football team on the field each and every day. Really, it's not about me though. It's about the Washington Redskins, it's about the fans, it's about the workers at FedEx Field, it's about the players, it's about the coaches. This is about a commitment to being a consistently great franchise.
Q: Based on last season, what convinced you that the Redskins weren't dysfunctional?
Gruden: I don't know what happened here last year. I know that interviewing with Dan Snyder and Bruce Allen and everybody here that the passion for excellence is there. All they want to do is win and they're going to provide me with every avenue to win. I don't know what happened last year and I don't care what happened last year. All I care about next year is moving forward.
Q: The Redskins' dysfunction reached national-level news. You didn't hear any of that?
Gruden: I hear but I don't really believe all the reports you guys report. I wasn't in the locker room so I was worried about my season and my team at the time.
Q: How much did the presence of RG3 faction in your decision to come to Washington?
Gruden: Robert's a great quarterback and very exciting. And anytime you want to move forward with a franchise that's a very important position, as we well know. He's a great player and I look forward to the chance to coach him.
Q: Where can RG3 improve?
Gruden: I have not really studied him on that type of foundation yet. I have to go back and watch him on tape, but I've seen him on highlights and I've seen some of the games we've carried over when studying other teams and I see a ton of talent. I see a guy that can run. I can see a guy that can move in the pocket. I see accuracy, I see long-ball accuracy, I see toughness, I see a guy that wants to win and I see a strong leader. I see every trait that a quarterback has to have to be successful -- I see Robert having all of those. Why wouldn't you want to coach a guy like that? I'm excited to coach him and hopefully he's excited to play here.
Q: How do you build trust with RG3?
Gruden: It's got to be genuine. He's got to believe it. And I'm going to let him know that I'm a trustworthy guy. He's also got to understand that I expect a lot from the starting quarterback. I expect him to come in and work hard. And I expect him to take the blame on some throws. I expect him to be a great leader. I expect him to do extra things to be great. As long as he's working his butt off I will provide him with everything he needs to be successful. ... If he doesn't like a play I'm not going to call a play. So I want to make sure he's comfortable with everything we're doing so he can go out on game day and he can succeed.
Q: Which assistants currently on staff will you keep?
Gruden:I'm going to wait and see. I'm going to interview a lot of coaches. I'm going to look at each coach that has been retained and interview everybody. ... I've already had 350 text of people (from around the country) -- great coaches -- looking to coach. I don't think finding a great coaching staff will be difficult.
Q: Will you call your own plays?
Gruden: I will call plays, and I will be involved in personnel decisions. But there are going to be a lot of people involved. We're not going to agree all the time but the big thing is to make sure is that we hear each other out in a calm, cool fashion. And as long as everybody has the team's best interest at heart, we will come to an agreement on personnel decisions. That won't be an issue.
Q: Do you plan to stick with the 3-4 defense?
Gruden: This team is built for the 34. They've been a 34 for a while and I love the 34 -- I actually hate the 34 as an offensive coordinator. (But) I think with the players in place here I'd would love to stay with the 34. That will be evaluated ... but I know when we played against the Washington Redskins it was very difficult to run against them ... and there is a core foundation in place.
Q: What made you think you were ready for an NFL head-coaching job?
Gruden: I've had to deal with players my whole life, you still have to motivate and coach and teach players to compete. ... You have to weather storms -- losing streaks, fumbles, interceptions, losing in the playoffs, losing three games in a row, winning three games in a row. There's a lot of things you can learn from whatever league you coach to get yourself ready. My strength is dealing with players, motivating players, keeping players excited to come to work and playing ... and letting them understand that honestly, I have their best interest at heart.
Q: And what led you to believe you could be successful in Washington?
Gruden: I can honestly tell you this: Dan Snyder and Bruce Snyder have the fans' best interests at heart. And the players' best interest at heart. And all they want to do is field a winning team. And they're giving me an opportunity to take this team to a great level and I'm going to do everything I can to prove them right.
The former Ravens linebacker initially retired in January but tried to find a job this sum...

Kizer respects his elders, especially elders protecting his blind side

The Patriots' top pick likely won't play a down for them in 2017
Chris Long put his arm around Malcolm Jenkins during his teammate's protest on Thursday

Nick Folk had some trouble putting the ball through the uprights against Jacksonville

If this fan was general manager of the Jaguars, Blake Bortles probably wouldn't be quarter...