Jay Gruden trying to be 'honest and open' with Robert Griffin III
Washington coach Jay Gruden wants to have a strong relationship with his quarterback.
• 2 min read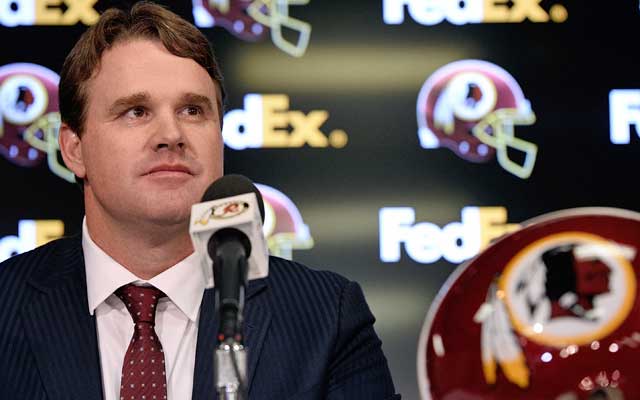 More NFL offseason: NFL Mock Drafts | Prospect Rankings | Top free agents
For much of last season, the relationship between former Redskins coach Mike Shanahan and quarterback Robert Griffin III was supposedly contentious. As was Griffin's relationship with former offensive coordinator Kyle Shanahan.
But the Shanahan's are gone, Griffin is still there, and new Washington coach Jay Gruden wants to try to build a strong relationship with his quarterback.
"Just try to be honest and open with him and not do things behind his back," Gruden said, via the Washington Post. "I don't know what happened last year with Coach Shanahan and him, and where the relationship went south, or if it did, or maybe the media blew it up. But he's obviously not here anymore.
"Now it's my job to get the most out of Robert. And I honestly believe that there has to be an open relationship between quarterback and coach-slash-playcaller, to have the comfort level where he can come in and say, 'Hey, I honestly don't like this play, I don't feel good about it. Or can we run more of this.' Or whatever it is. There has to be an open communication for the quarterback to be the most successful. And I welcome that type of atmosphere. Hopefully it will work out."
It will need to work out for both sides. While Shanahan's job stability was tied to the success of Griffin, the power in the relationship with Gruden is likely more equalized. Gruden's job stability is tied to Griffin, but it makes sense that Griffin's job stability (and his ability to earn a huge second contract) is tied to Gruden's success as well.
Previously, Gruden has said that in order to build a rapport with Griffin, the relationship has to be genuine and that Griffin has "got to believe it." But Griffin must play a role as well.
"He's also got to understand that I expect a lot from the starting quarterback," Gruden said when he was hired in January. "I expect him to come in and work hard. And I expect him to take the blame on some throws. I expect him to be a great leader. I expect him to do extra things to be great. As long as he's working his butt off I will provide him with everything he needs to be successful. ... If he doesn't like a play I'm not going to call a play. So I want to make sure he's comfortable with everything we're doing so he can go out on game day and he can succeed."
The Patriots coach doesn't have time to waste on the Lamar Hunt Trophy

The Eagles defense definitely came to play in the NFC Championship game

Not even 10 stitches could slow down Tom Brady
Here's a look at the NFL's entire postseason schedule for 2018

Follow along live as the Vikings and Eagles battle for a spot in the 2018 Super Bowl

The winner of Sunday's game will be headed for Super Bowl LII