Jeff Fisher on Rams QB situation: 'Sam's our guy'
So much for the Rams taking a quarterback early in the draft.
• 1 min read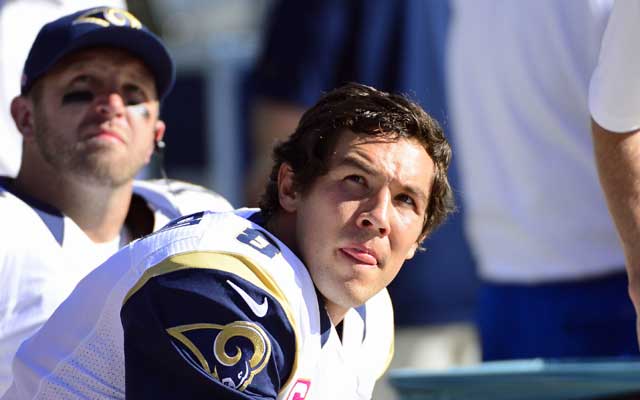 More Draft coverage: Mock Drafts | Prospect Rankings | Big Board | News
While some think the Rams should have tested the trade market with quarterback Sam Bradford -- the former No. 1 overall pick is still owed $27 million for the final two years of his contract but he still hasn't accomplished much in his pro career -- that doesn't appear to be the case.
And for whomever thought St. Louis might take a quarterback with the No. 2 overall pick this year (a pick like Johnny Manziel, for instance), Rams coach Jeff Fisher had the ultimate answer for that theory on Wednesday.
"Sam's our guy," Fisher said at a pre-draft pep rally, and what makes that statement so believable is that Bradford was standing right next to him when Fisher made that proclamation.
So, you can forget about a trade, and you can forget about the Rams drafting a quarterback in the first round.
And as the St. Louis Post Dispatch reports, the team told Bradford beforehand that a smokescreen would be invented in order to get others to believe that the Rams might rid themselves of Bradford.
(Not that many people have believed it apparently. In fact, all five of the CBSSports.com mock drafters predict the Rams will take Auburn offensive tackle Greg Robinson with the No. 2 pick.)
Here's the description from the newspaper about what happened after Fisher's declaration:
The crowd responded with a standing ovation, and even the normally stoic Bradford couldn't help but smile. Those in attendance were given an update on Bradford's rehab, and Bradford appeared to be bigger and stronger in the upper body.

So that settles that. So much for Bradford getting traded. So much for those rumors involving the Rams drafting quarterback Johnny Manziel of Texas A&M. You don't bring Bradford up on stage, and say what Fisher said, if either of the above were going to happen.
That doesn't mean, however, that the team won't draft a quarterback at any point in the next three days. It just probably won't happen in the first couple of rounds. 
Harrison is the franchise's all-time leading sacker, but J.J. Watt's brother will get the starting...

More than 17 percent of fans say they would never consider dating a Pats fan

Brady said that his lack of speed is why he fell so far in the draft in the first place
If Thomas is right, that means it's bad news for DeShone Kizer's chances of starting early

The NFLPA denied the accusation and fired right back at the league

The Raiders bandwagon continues to take on passengers ahead of the 2017 season