Jeff Ireland does media rounds Tuesday, explains Dolphins offseason plans
Dolphins general manager Jeff Ireland spent time Tuesday calling various media outlets and talking about what exactly is going on in the organization.
• 2 min read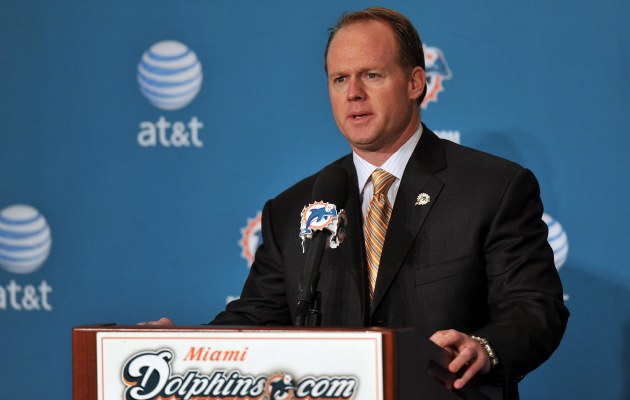 Jeff Ireland thought it wise to make phone calls to the media explaining Miami's offseason. (US Presswire)
After whiffing on Peyton Manning, Matt Flynn and Alex Smith -- but
still managing
to land David Garrard! -- it seems clear the Dolphins front office felt a little PR massaging was the right way to spend Tuesday.
So, general manager Jeff Ireland spent time calling various media outlets, including the
Miami Herald
, and explaining what exactly is going on in the organization. Or, you know, what's
not
going on in the organization.
When you add head coaches like Jim Harbaugh and Jeff Fisher, both of whom were courted by the Dolphins before deciding to go elsewhere, to that trio of quarterbacks who declined Miami's advances, it's become a disturbing trend to wonder if there's something wrong with the organization itself.
Ireland, of course, doesn't think so.
2012 NFL free agency coverage
NFL coverage on the go
"I absolutely think players and coaches want to be here," Ireland told the
Herald
. "When we talk to people about the Dolphins, they still think highly of this franchise, its history, its direction. They have no problem coming here. And sometimes they don't. Sometimes they make other decisions. But it's a two-way street. We make our decisions also."
With Flynn, the
Herald
writes that the issue came down to money. The Dolphins were only willing to go so far to entice the former Packers backup to sign with the team -- which might mean that new Dolphins coach/former Green Bay offensive coordinator Joe Philbin actually
<em>isn't</em>
sold that Flynn can be a better starting quarterback than Matt Moore or Garrard -- and now they'll have to see if Moore (who was solid last year after taking over for Chad Henne) or Garrard (who was solid for a season or two in Jacksonville) is a better option.
But not everybody is impressed by Ireland. Clearly.
"Jeff Ireland has a big part to do with (the situation the Dolphins find themselves)," former Dolphins linebacker Joey Porter said Monday on the NFL Network. "He's a guy that -- I don't think when you come in being recruited by him you really believe the things that are coming out of his mouth. I think he's a guy that's not trustworthy. He's a guy that doesn't really hold up to what a GM is supposed to be. He has the right tools to lead that franchise in the right direction but obviously nobody's buying into it."
And some fans are upset. Upset enough to have a mini-protest rally in front of team headquarters on Tuesday. As the
Palm Beach Post
reports, about 25 fans showed up with signs proclaiming their desire for another general manager and their distaste of owner Stephen Ross.
"Being scorned by Manning and then last night with David Garrard, I think David Garrard just added more fuel to the fire," 25-year-old Matthew Cozzo told the
Post
. "It's just one thing after another. Ross and Ireland, I don't know what they're doing."
Cozzo, it would seem, is not alone in his thoughts.
For more NFL news, rumors and analysis, follow

@EyeOnNFL

on Twitter, Like Us on Facebook, and subscribe to our NFL newsletter
.
Nobody will mistake Joe Looney for his star teammates

Osweiler is being benched in favor of DeShone Kizer

Madden season is almost here again. Here's everything you need to know.
Rob Gronkowski, in an attempt to stay healthy, is turning over a new leaf in 2017

Cyrus Mehri says players have gone backward under Smith's leadership

Preseason Week 3 is go time -- jobs are won and depth charts are solidified