Jeremy Maclin gets better of Darrelle Revis, but tweaks hamstring
Eagles receiver Jeremy Maclin has had a solid couple days of practice.
• 1 min read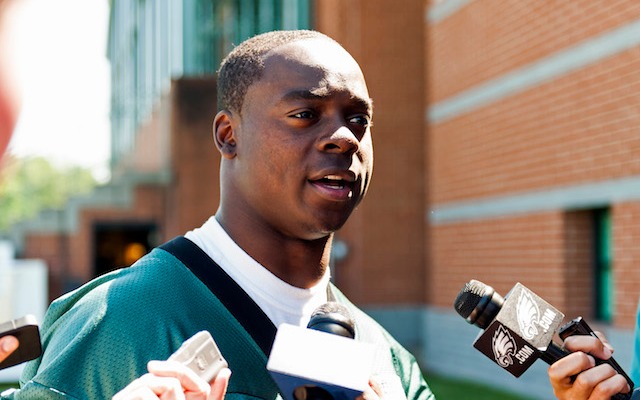 More NFL: Photos |  Videos & GIFs |  Training Camp updates | Manziel
All offseason long, we've had to listen to various players brag about how they're the best cornerback in the game. Patrick Peterson has said it. So has Richard Sherman and DeAngelo Hall and Brandon Flowers and probably scores more I'm forgetting.
Oh, and Darrelle Revis most likely thinks the same thing.
But this week, as the Eagles have practiced with the Patriots, reports from the joint practices show that Philadelphia receiver Jeremy Maclin has gotten the better of Revis.
Revis was whistled for three holding penalties against Maclin on Tuesday and Maclin beat him for a touchdown, and on Wednesday, this happened.
Jeremy Maclin continues to toast Darrelle Revis in 1 on 1s. Looked right at us after beating him as if to say, "You reporters catch that?"

— Jeff McLane (@Jeff_McLane) August 13, 2014
Of course, that begs the question: does Revis care? After all, it's still in the middle of the preseason, and one man's success during practice won't mean much of anything once the regular season begins.
Should point out: I am not under the impression that Darrelle Revis is giving anywhere near 100 pct in these drills. Has little to prove.

— Jeff McLane (@Jeff_McLane) August 13, 2014
Maclin is coming off an ACL tear, so the news of his success from the joint practices likely means more to the Eagles.
But Maclin also came off the field during practice Wednesday, because it was raining and the fields were wet. He held an ice pack on his knee, and he told reporters he left practice because of his hamstring.
Maclin says left hamstring "grabbed" after long catch. He says he'll get treatment, be OK

— Les Bowen (@LesBowen) August 13, 2014
Here's an up-to-date look at the 2018 Pro Bowl roster

Bettors are favoring the Eagles to keep Super Bowl LII close, but the Patriots remain clear...

Here's everything you need to know about Super Bowl LII
Here's a look at the NFL's entire postseason schedule for 2018

Here's all the details you need to know on watching Super Bowl LII between the Patriots and...

All of the information you need to know about the 2018 Super Bowl