Jermichael Finley once talked trash about Tebow, now training with him
Jermichael Finley wasn't a big Tim Tebow fan in 2011, but he seems to be know.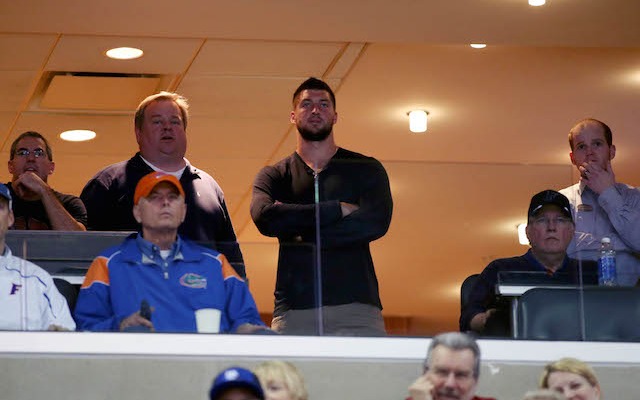 More NFL: Photos |  Videos & GIFs |  Training Camp updates | Manziel watch
Tim Tebow has a new workout partner and his new partner happens to be someone who hasn't always been a big fan of Tebow: Jermichael Finley.
Working. Me & @TimTebow. #NeverGiveUp pic.twitter.com/TlJZ0ELpq8

— Jermichael Finley (@JermichaelF88) August 11, 2014
The former Packers tight end got kind of fed up with Tebow-mania in 2011. 
"He's telling everybody what they want to hear," Finley said. "You see him and he's patting everybody on the back saying, 'You're going to make this catch. I promise because God said,' and he makes it happen. Stuff like that. It confuses people."
Finley also predicted that Tebow would eventually be 'exposed' and wouldn't last long in the NFL.  
"People that don't know the game outside of the fans, of course they're going to hype it up," Finley said of Tebow-mania. "But guys that see a good player and a good quarterback, they know what kind of guy he'll be down the road when he gets exposed. Everybody who knows the game knows what kind of player Tebow is going to be."
Ironically, Finley's now working out with Tebow trying to get him back to the NFL.
Tebow has practically spent his entire summer in the weight room and he's feeling good. "I feel great," Tebow said in late July. "I feel the strongest, healthiest, throwing the best I ever have. I'm just really excited about the improvement."
Tebow might not be in the weight room today though (Aug. 14) because today's Tebow's birthday. If you're celebrating Tebow's birthday, remember, you don't have to go all out with the cake. Two slices of cheesecake with frosting-writing on them is enough.   
Just bought your cake! Happy birthday @TimTebow pic.twitter.com/zfwJvWU6cY

— John Miceli (@JohnMiceli15) August 14, 2013
We finally have video proof that the roof at the Falcons new stadium works

The tumultuous relationship will officially dissolve in August

It seems there's a chance that Colin Kaepernick could still end up in Baltimore
John Harbaugh also explains why the team isn't taking Colin Kaepernick off the market just...

The Seahawks front office had a busy Friday

It was a major story this offseason -- and that will be the case next offseason too