Jerod Mayo has the perfect gift for your mayo-loving Patriots pals
Looking for the perfect holiday gift for your mayo-loving Patriots friend? I present thee, Jerod Mayo Mayonnaise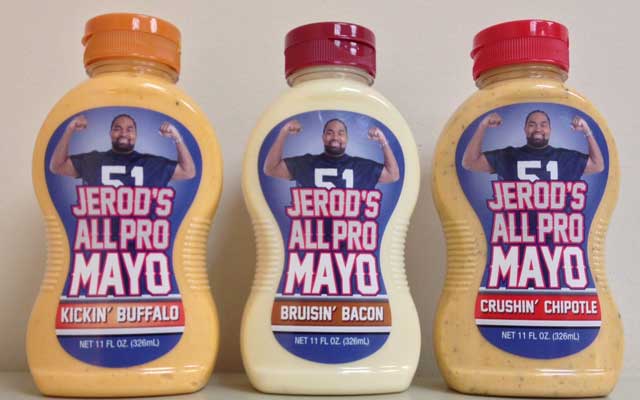 I bring you unfortunate news this fifth day of December, 2013.
The mayonnaise business is expanding.
Who do we thank for this development?
Mayo. Jerod Mayo.
Naturally.
The Patriots linebacker is attached to three new flavors -- available for one Alexander Hamilton bill -- of gourmet mayo. They are as follows: Kickin' Buffalo, Bruisin' Bacon, Crushin' Chipotle.
Aside from their blatant disrespect toward the letter g, the three mayos were introduced to this universe by PLB Sports, a company that bills itself as "your premier source for athlete-endorsed, quality food products."
Some of PLB's other lines include:
Brett "The Diesel" Keisel Salsa
Miggy's Salsa (Miguel Cabrera)
Ed Mcaffrey's Rocky Mountain Horseradish
Peyton Hillis Redzone Salsa
And famously, of course, Flutie and Gronk Flakes.
As part of the anti-mayo movement, I will not be adorning my cured meats with Jerod Mayo's products. But for those looking to add a little kick to your life via spreadable condiments adorned with the likeness of a Patriots linebacker?
Lucky, meet day.
Wink of the CBS Eye to Fox Boston
This might go down as the best ending of the 2017 season

The Raiders beat the Chiefs, 31-30, on Thursday night thanks to Derek Carr's heroics

This was easily the most exciting final 10 seconds of any game in the NFL this season
Everything going the Chiefs way on Thursday Night Football

Beast Mode went Beast Mode on someone he shouldn't have gone Beast Mode on

This is how you do a 99-yard touchdown drive