Jerry Jones: 2014 not a 'make or break' season for Jason Garrett
Cowboys owner Jerry Jones say Jason Garrett isn't facing a 'make or break' season in Dallas.
Training camp can't officially start in Dallas until Jerry Jones gives Jason Garrett a vote of confidence and that's exactly what happened on Wednesday. 
Garrett might be going into the final year of his contract, but Jones said it's still not a 'make or break' season for his coach. 
"In terms of the record of this team, this is not a make or break situation for Jason," Jones said, via NFL.com. "Members of this staff, we've got a job to do. We obviously are gonna see what we're doing this afternoon and what we're doing the next day and the next day and the next day."
Jones didn't say what exactly his expectations are for the Cowboys, but he did say that Garrett knows them. 
"There's nobody that has a better feel for me than Jason in terms of relationship," Jones said. "We both know where our expectations are and when it's looking good and when it's looking dire. I don't expect it to be the latter."
Jones also added that he sees 'experience' and 'continuity' with Garrett. 
A vote of confidence isn't always a good thing, but for Garrett, it's been a great thing. Jones has been incessantly asked about Garrett's job status since at least December 2011 and for the most part, Jones has given his coach a thumbs up. Garrett made the move from Cowboys interim coach to head coach in February 2011. 
In three and a half seasons with the team, Garrett has gone 29-27 and in each of Garrett's three full seasons, the Cowboys have gone 8-8 and made the playoffs zero times. 
Of course, if Jones wants to get rid of Garrett after the 2014 season, he won't have to fire him. If the Cowboys miss the playoffs again or fall to 4-12, Jones can just let his coach's contract expire and hire someone else -- and that someone else will probably be on the hot seat the day they're hired.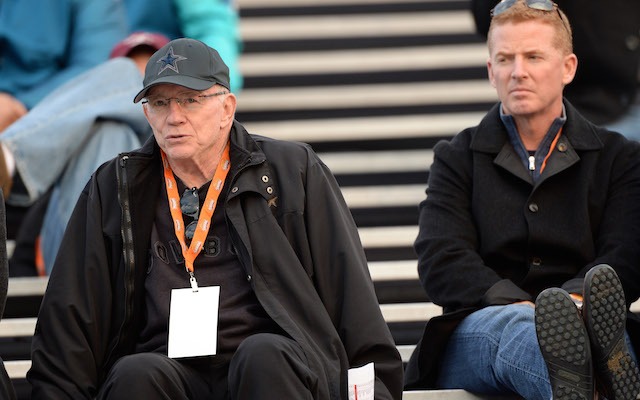 The Ravens and Jaguars head across to pond to play an early-morning game in Wembley Stadiu...

It appears that Darrelle Revis is one of the NFL's most popular free agents right now

The former Bills coach had harsh words for President Trump: 'I never signed up for that'
The NFL could be in for a historic day on Sunday in the wake of Trump's remarks

Robert Kraft was 'deeply disappointed' in comments made by Donald Trump

Everything you need to know heading into Week 1 is right here