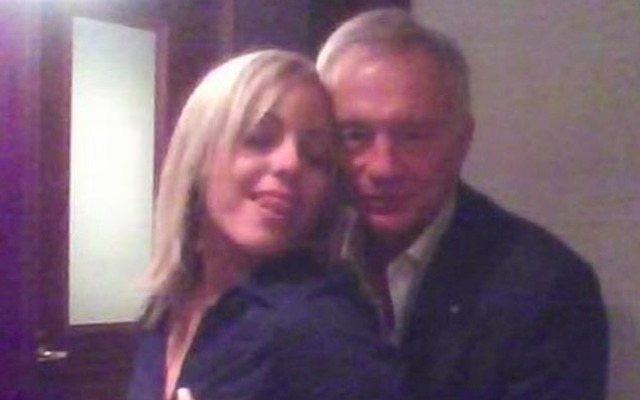 A woman in Dallas filed a lawsuit this week that accuses Cowboys owner Jerry Jones of sexual assault. The woman, Jana Weckerly, claims she was the person who took the racy pictures of Jones that were released in August. 
Weckerly alleges that the sexual assault happened on the night the pictures were taken in June 2009. In the lawsuit, Weckerly claims that Jones "forcibly touched her butt, forcibly touched her breasts, forcibly kissed her and forcibly touched her genitals."
Weckerly, 27, is seeking more than $1 million in damages.
The Cowboys are also named as a defendant in the lawsuit. The team is being sued for "failing to investigate the allegations" and "failing to report the crimes to law enforcement," among other things. 
In an email to ProFootballTalk.com, Jones' lawyer, Levi McCathern, called the allegations "completely false." McCathern also called the lawsuit a "money grab."
"These allegations are completely false," McCathern said in a statement.  "The legal complaint is unsupported by facts or evidence of any kind. This is nothing more than an attempt to embarrass and extort Jerry Jones. This is a shakedown by a lawyer who is a solo practitioner just trying to make a name for himself. The alleged incidents would have been more than five years old. We intend to vigorously contest this complaint and expect it will be shown for what it is -- a money grab.  Due to the seriousness of these baseless allegations, we have also involved law enforcement."
After the racy photos hit the Internet in August, Jones was asked about them and simply said he was misrepresented. 
"Someone has misrepresented photos taken at a restaurant five years ago for their own purposes," Jones said. "I'm just not going to comment on it."
As Jones mentioned, the photos were taken five years ago, but they weren't released online until Aug. 3, when a man named Frank Hoover tweeted them out. Hoover said the pictures were part of an extortion plot against Jones. 
Not only did Hoover tweet out the pictures, he also tweeted out a link to a 20-page manifesto he wrote that described the extortion plot against Jones. In the manifesto, he specifically mentioned Weckerly's involvement in the extortion plot, labeling her as the person "responsible for the photos."
The two women pictured with Jones -- in photos you can see here and here -- are both strippers. In an interview with TMZ, the women said that they've both hired lawyers and that they don't really remember the night because "there was a lot of alcohol involved."
The women also claim that they had no idea that Weckerly was taking pictures -- which seems hard to believe because they seem to be looking at the camera in each shot.
You can read Weckerly's entire lawsuit below, but beware, there's definitely some graphic language.