Jerry Jones approves of his GM, plans to continue for 15-20 years
Cowboys owner Jerry Jones approves of the job done by his team's general manager.
• 1 min read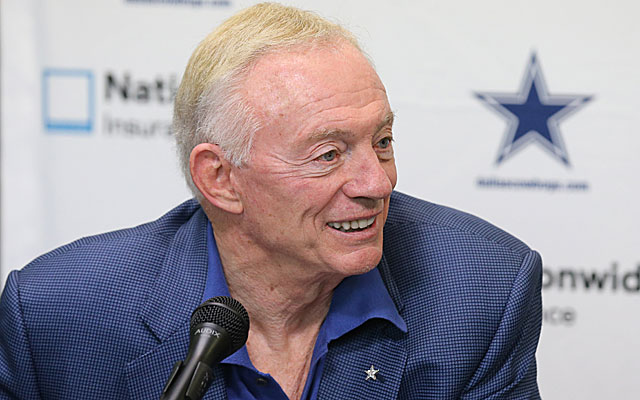 Not only does Cowboys owner Jerry Jones approve of the job done by coach Jason Garrett enough to give him at least another year in the organization, Jones feels he's doing just fine as the team's general manager.
How do we know this? Because the owner gave the GM a vote of complete confidence Friday.
"The facts are that I really do think the way things have rolled out that I'm getting to do some of the best work that I've done, relatively speaking in my career of these last several years," Jones told CBS Dallas.
So, um, yeah.
Let's run down the list that might (slightly) dispute Jones' theory:
--The Cowboys have won just one playoff game in the past 17 years.
--The last five coaches the team has hired could be labeled disappointments (Bill Parcells, Chan Gailey Dave Campo, Wade Phillips and Garrett).
--From 2009-12, there have been maybe four high-impact players that have been drafted by the Cowboys.
This next bit of news, then, should make you real happy if you're a Dallas fan. Jones confirmed he wants to continue in the same role for the next 15-20 years.
"Of course, I said it, and I really meant that and just think about that a minute: Why wouldn't you?" Jones said. "One of the reasons that I to some degree have taken the risks that I have over the years and kind of had the professional life that I followed is so that I get to decide when enough is enough. So I do get to decide that. It's a certain part of working for yourself if you still are standing when the time comes. So I get to really make that decision, and I want to make it in a way that I think is in the best interest of the team, franchise and really our fans.
"A lot of people just need to hear me say I know it's in our best interest for us to operate the way we have. It's unfortunate that over these last five or six years that we haven't had a few things turn right for us at the end of the season, needing to win one of out of two games to get into the playoffs, having a healthy quarterback, all of those things. But we've been a lot closer than it seems."
Follow Josh Katzowitz on Google+
Welcome to the NFL's version of a dress rehearsal

It sure sounds like the players are planning for a work stoppage when the latest CBA expir...

One of the league's best players is still looking for a new long-term contract
'It's completely different,' Wentz says about entering his second season with the Eagles

Tavon Austin, Matt Kalil and Joe Flacco headline our list of the NFL's most player-friendly...

Richardson has played for four NFL teams, and hasn't appeared in an NFL game since 2014