Jerry Jones: Bon Jovi 'qualified to become an NFL owner'
Jerry Jones said that Jon Bon Jovi is 'qualified to become an NFL owner.'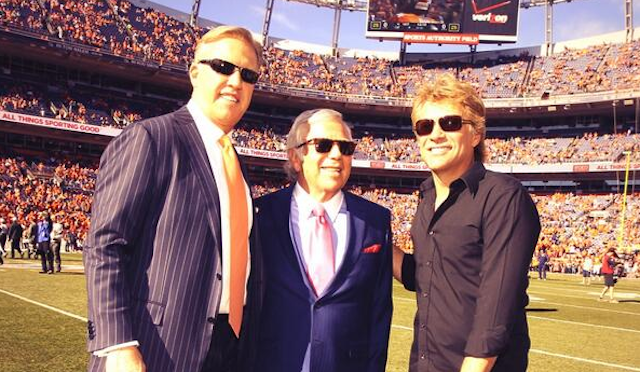 More Draft coverage: 2015 Mock Drafts | 2015 Top 100 | 2014 Draft Grades | News
The Buffalo Bills ownership situation is up in the air. One possible solution? Rock legend and big-time football fan Jon Bon Jovi, as CBS Sports NFL Insider Jason La Canfora first reported back in November.
Without going out on a limb, it's safe to say Robert Kraft would be OK with JBJ owning a team. And so would Jerry Jones, who called Bon Jovi a "qualified owner" on Monday afternoon.
"Jon Bon Jovi is first-class," Jones said. "You shouldn't equate creativeness in any way with compromising solid, sound, people you want to live by you next door, true American, true citizen. Jon Bon Jovi is that.
"I don't know of anyone that I have more respect for as a father or as a husband or, certainly, as a potential business partner. He's qualified to become an NFL owner."
Jones added that "all [the] owners know of him" and that Bon Jovi is "committed" and "very genuine."
Bon Jovi would, presumably, be willing to keep the Bills in Buffalo if he ended up owning them. Otherwise, they might be ... living on a prayer when it comes to sticking around upstate New York. 
The Steelers beat the Falcons while the Saints topped the Chargers

Boldin, 36, who ranks ninth in career receptions, is calling it quits after 14 NFL seasons

Reed's toe is healed but can the oft-injured tight end stay healthy?
The Cardinals rookie safety might have a career in break dancing when he's done with the N...

All signs point to Lynch, the former first-round pick, not beating out Siemian in Denver

The NFLPA executive director comes out out firing in a 'Real Sports' segment