Jerry Jones: Cowboys will make roster spot for Josh Brent if he's reinstated
If Josh Brent gets reinstated to the NFL, he'll have a roster spot waiting for him in Dallas.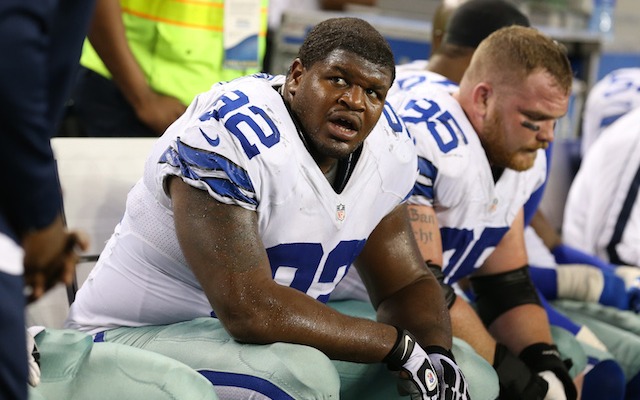 More NFL: Photos |  Videos & GIFs |  Training Camp updates | Manziel watch
After 13 months in retirement, former Cowboys defensive tackle Josh Brent wants to return to football. Even better for Brent? Jerry Jones wants him back.
The Cowboys owner said on Monday that if Brent gets reinstated, the Cowboys will find a place for him on the roster. 
"We wouldn't have it today but we would make a roster spot," Jones said, via the Dallas Morning News.
Brent officially retired in July 2013. The retirement came seven months after teammate Jerry Brown was killed in a December car crash where  Brent was the driver. 
In January 2014, Brent was found guilty of intoxication manslaughter and sentenced to 180-days in jail. Brent was released from jail on June 15. The 26-year-old then spent several weeks in an alcohol and drug treatment facility where he was released from on July 29. 
Shortly after his release, Brent's agent, Peter Schaffer, announced that Brent has plans to return to the NFL. 
"He has decided he would like to continue his NFL career if the Cowboys will have him and the NFL will take him back," Schaffer said.
Although Jones has made it clear the Cowboys will take Brent back, it's unknown what the NFL's stance is at this point. Brent is scheduled to sit down with commissioner Roger Goodell on Thursday, although that doesn't necessarily mean Goodell will make a decision then.
Jones won't ask for an expedited decision in Brent's case, he's going to let the commissioner make a ruling when the commissioner is ready to make a ruling.  
"Good judgment tells you, let this happen on the commissioner's time," Jones said. "I don't want to be presumptuous. He looks and should look at all discipline situations straight to the player and the individual and the situation and I know that for a fact, so the answer is no, I wouldn't dare ask him to hurry up his judgment in that area."
Besides Jones, Brent has also received the blessing of Stacey Jackson as he seeks to return to football. Jackson is the mother of Jerry Brown. Jackson invited Brent to Brown's memorial service in December 2012 and forgave him for his actions. 
Jackson talked about her relationship with Brent during a segment that aired on CBS' The NFL Today last Thanksgiving. 
"I knew Josh was hurting just as much as I was because Jerry was his brother," Jackson said in November. "If being mad at Josh would bring Jerry back, then I'll be mad at Josh, because I want my son, but then what do you give to the rest of your family if you're bitter. So, I had no problem with him coming to be at the memorial service with us, I had to forgive him."
Check here for the latest news, rumors and updates for NFL coaching changes and searches

The Titans have tapped Texans defensive coordinator Mike Vrabel to take over as head coach

The government shutdown has come at a horrible time for NFL fans in the U.S. military
Bengals owner Mike Brown seems to be a huge fan of continuity

Our computer model simulated the AFC and NFC title games 10,000 times with surprising resu...

The people of Philadelphia now have two reasons to root for the Eagles this week