Jerry Jones: It's 'absurd' to say there's a link between CTE and football
Jones' assertion flies in the face of medical research.
Jerry Jones loves to talk. He's one of the more entertaining owners in all of sports specifically because he loves to talk. Sometimes, though, he says things that, well, they make you wonder why he talks so much. Tuesday was one of those times.
Cowboys owner Jerry Jones told reporters it's absurd 2 say there's a relationship betwn CTE and playing football,saying not enough data

— daniel kaplan (@dkaplanSBJ) March 22, 2016
After being asked if he believes there is enough data to establish a link between CTE and football, he responded thusly, per the Washington Post:
"No, that's absurd. There's no data that in any way creates a knowledge. There's no way that you could have made a comment that there is an association and some type of assertion. In most things, you have to back it up by studies. And in this particular case, we all know how medicine is. Medicine is evolving. I grew up being told that aspirin was not good. I'm told that one a day is good for you ... I'm saying that changed over the years as we've had more research and knowledge.

"So we are very supportive of the research ... We have for years been involved in trying to make it safer, safer as it pertains to head injury. We have millions of people that have played this game, have millions of people that are at various ages right now that have no issues at all. None at all. So that's where we are. That didn't alter at all what we're doing about it. We're gonna do everything we can to understand it better and make it safer."
Jones wants studies to back up the link. Studies like the one done by Dr. Bennet Omalu that found chronic traumatic encephalopathy (CTE) in the brains of Mike Webster, Terry Long, Andre Waters, Justin Strzelczyk and Tom McHale in the early 2000s.
CTE was also found in the brains of twelve more former players between 2008 and 2010. It was found in the brain of Jovan Belcher, the former Chiefs linebacker that killed his girlfriend before killing himself in the parking lot of Arrowhead Stadium.
The Department of Veterans Affairs and researchers from Boston University announced in September that they had found evidence of CTE in 96 percent of NFL players and in 79 percent of all football players that they had examined. In 2016, there have already been two more former NFL players (former Giants safety Tyler Sash and former Raiders quarterback Ken Stabler) who have had evidence of CTE found in their brains.
Even an NFL employee (senior vice president for health Jeff Miller) admitted the existence of a link between CTE and football a mere eight days ago. Noted medical expert Jerry Jones may not think there is a link between CTE and football, but researchers all over the country keep finding it in the brains of former players -- 96 percent of them as recently as six months ago.
Jerry wants to see more research on the subject of CTE and football. That's fine. Everyone should. It's an important subject. But how many more football players have to die and then show evidence of CTE in their brains before it becomes acceptable to admit a link exists?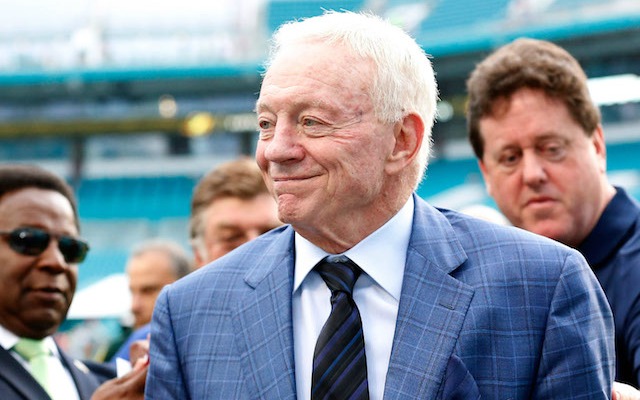 Here's an up-to-date look at the 2018 Pro Bowl roster

New England is 3-0 wearing white in Super Bowls under Bill Belichick

Bettors are favoring the Eagles to keep Super Bowl LII close, but the Patriots remain clear...
No one wants to give the Eagles any respect

The three-time Grammy winner will sing before Super Bowl LII on Feb. 4

Here's a look at the NFL's entire postseason schedule for 2018