Jerry Jones to Dez Bryant: 'Let's just win five Super Bowls in a row'
Jerry Jones doesn't just want a Super Bowl in 2015, he wants five straight titles.
• 1 min read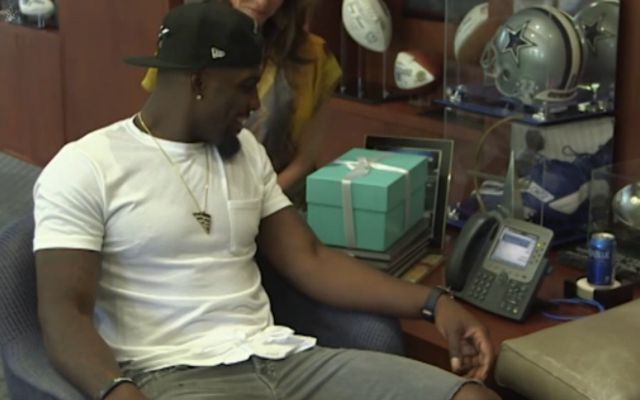 Now that Jerry Jones has secured Dez Bryant for the longterm, Jones is setting his sights on some lofty goals.
On Thursday, the Dallas Cowboys released video footage of Jones and Bryant speaking on the phone shortly after Bryant signed his contract extension. During the call, Jones revealed his goals to Bryant.
Jones is eyeing five Super Bowls in a row.
"Congratulations," Jones said. "Let's just win five Super Bowls in a row, how about it?"
"Yes sir, we are," Bryant replied. "I think this is the year. We got it."
Bryant had already revealed that he thinks the Cowboys are ready to win the Super Bowl, but he didn't mention five in a row after inking his five-year, $70 million deal on Wednesday.
Of course, nobody should expect the Cowboys to even come close to winning five in a row. The Cowboys aren't even projected to be the top team in their conference in 2015. Furthermore, quarterback Tony Romo is 35 years old and the Cowboys don't appear to have located his replacement, unless they're planning on trotting out Brandon Weeden, who is already 31, in a few seasons once Romo retires.
But hey, dreams are nice. And Jones should be giddy about extending Bryant. But the Cowboys should probably just worry about 2015, because making the playoffs in the crowded NFC isn't exactly a guarantee.
If the the past 18 weeks are any indication, Tom Brady could be in trouble on Sunday

The Patriots quarterback has been listed as questionable for Sunday's AFC Championship

It appears the Raiders didn't break any rules during their hiring of Jon Gruden
Jacksonville cornerback does not lack confidence heading into AFC Championship

Payton was seen mocking Vikings' fans at the end of the game on Sunday, but there's no bad...

Tom Brady didn't really feel like talking about his hand injury on Friday