Jets K Nick Folk: Add narrower uprights to make extra points harder
instead of eliminating extra points, Nick Folk thinks the NFL should consider other proposals, like making extra points more difficult by narrowing the uprights.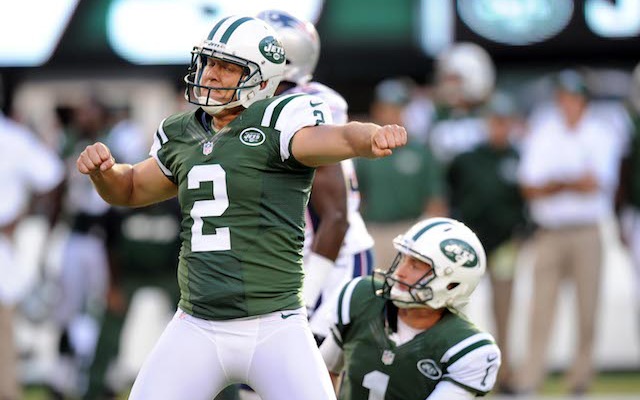 Ever since NFL commissioner Roger Goodell floated the idea in January that the league may one day consider abolishing extra points, kickers have been up in arms. Every kicker that's been asked about it has been against it, which makes sense, because it devalues their job. 
One of the main arguments against extra points is that they're too easy. In 2013, NFL kickers connected on 1,256 of 1,261 extra point attempts for a 99.6 percent conversion rate. Jets kicker Nick Folk doesn't think the NFL should think about eliminating extra points, he just thinks the league should make them harder. 
Folk's suggestion? Narrower uprights. The Jets kicker says the league should keep the normal uprights, which are 18 feet and six inches apart, but add two more uprights that would only be nine feet apart. For extra points to count, the ball would have to go through the uprights that are nine feet apart. 
"It would make it harder," Folk said, via NJ.com. "That could be a new way to do it because I don't know what the percentage would be. Even if it's 90 percent, then it's not as automatic and you're still dealing with the elements that can affect the ball going through there."
Folk then took his proposal a step further saying field goals that go through the nine-foot uprights could be worth four points and field goals from over 50-yards that go through the nine-foot uprights would be worth five points. 
"As a kicker, it's the best thing you could do," Folk said. "You could kick a 50-yarder if you're down by five at the end of the game and tie it, if you're accurate enough with it. You're rewarding accuracy."
Colts kicker Adam Vinatieri had a similar idea in January, where long field goals would be worth more points. With Vinatieri's idea, the uprights would stay where they are, but kicks over 50-yards would be worth four points. 
Maybe Goodell should just throw the NFL's 32 kickers in a room and let them decide what to do with long field goals and the extra point.  
Nobody will mistake Joe Looney for his star teammates

Osweiler is being benched in favor of DeShone Kizer

Madden season is almost here again. Here's everything you need to know.
Rob Gronkowski, in an attempt to stay healthy, is turning over a new leaf in 2017

Cyrus Mehri says players have gone backward under Smith's leadership

Preseason Week 3 is go time -- jobs are won and depth charts are solidified