Jets Observations: Sanchez's grip as starting QB far from firm
Mark Sanchez is still likely to be the Week 1 starter for the rebuilding Jets, but Geno Smith should be running things by October.
• 5 min read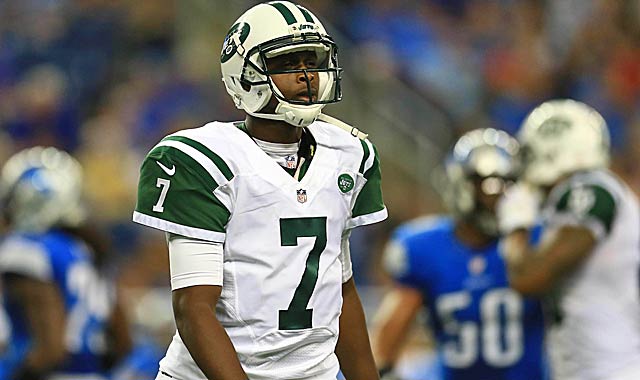 CORTLAND, N.Y. -- Rex Ryan doesn't yet have a starting quarterback picked out for this week's second preseason game, which, in and of itself, doesn't say much for incumbent Mark Sanchez. Even with rookie Geno Smith's ankle still ailing and him hobbled a bit at Tuesday's practice at SUNY Cortland, Ryan said he wants to see more practice this week before declaring a starter for the exhibition clash with the also-rebuilding Jaguars.
Smith did complete a few nice deep balls in this practice, though he didn't look entirely comfortable, either.
"It was still noticeable, but I don't think it was as bad as it was before," Ryan said. Smith picked up the nagging injury during what was a nice performance in the preseason opener, and Ryan spoke highly of his development thus far. "He's had his moments where he's looked great," Ryan said.
Sanchez, meantime, had another horrible gaffe in the opener, a pick six, and Ryan didn't sugarcoat where things stand for him, either. The kid gloves are off regarding the former first-round pick. Ryan said Sanchez had to read the play better, his eyes were not in the right spot and "it can't happen again, there's no doubt."
In the end I suspect Sanchez may do just enough to start Week 1 -- this is a rebuilding team, it's being developed for the long haul and there is no reason to thrust more expectations or create more hype for Smith right away. But the team is going to struggle offensively regardless of the quarterback, and I bet by sometime in October, Smith is running things.
More observations
•  Jets GM John Idzik is still feeling his way through the local media and keeping a low profile, which I applaud. I believe he's already changing the culture here, and while there are no quick fixes to the mess he inherited, he is smart, pragmatic and has experience in the football and business side of things. There will be a long-term plan. While this team and roster has a long, long way to go, I think he's well positioned to take the Jets into the future.
•  The run/pass ratio with this bunch will be worth monitoring on a weekly basis. Privately, former Eagles coach Andy Reid, who loves to throw the ball as much as anyone ever has, thought the offense got a little too-pass happy with Marty Mornhinweg calling the plays. Ryan is Mr. Ground and Pound, and given the overall lack of skill guys here, they'd better damn well run it a bunch.
Their balance was already being called into question after the preseason opener, and the best way to develop their rookie passer will be relying on the offensive line to create holes and keep it simple.
•  Ryan mentioned during his remarks to the media how running back Bilal Powell and some other non-quarterbacks on this roster can throw the ball, and given Smith's athleticism, I have a feeling they don't abandon Wildcat/Pistol concepts this season even after the Tebow/Tony Sparano debacle last year.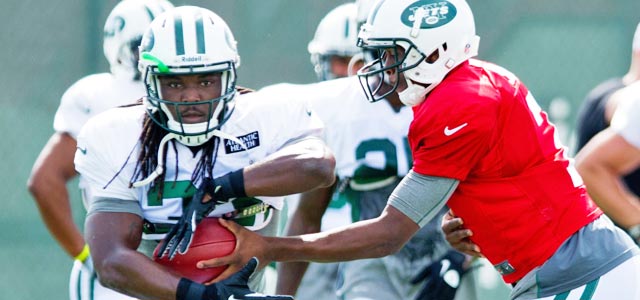 •  Chris Ivory missed time with an injury but has impressed in his first two practices back. He fits Ryan's mentality and looked good in some goal line and heavy formations today. He could be an effective feature back for them. Conversely I swear it looked like Ryan might want to throw up when asked for an explanation of running back Joe McKnight's various injuries. The Jets are saying he has a head injury for now, but I could see them just finding a way to part with him. The carnival atmosphere of his various attempts to practice and play feels a little too much like the bad old days around here. As soon as some return specialists are available on waivers, I'd think that could spell the end for McKnight here.
•  Ideally, the Jets would carry three quarterbacks, and Greg McElroy is well liked in these parts. But if there is a roster crunch and a few youngsters emerge at the skill positions where New York is desperate for quality and depth, it could result in just two going into the year.
•  Receiver Stephen Hill still looks very much like a project to me entering his second season after being a high pick. He is clearly agitated about being labeled a guy whose hands let him down and he was quite defensive after dropping a pass in today's practice. "I don't really want to talk about drops," he said. " ... Everybody drops balls." I could see this team going hard at the waiver wire for pass catchers when cuts begin.
•  Veterans Braylon Edwards and Kellen Winslow were given the day off and the team is trying to find a way to coax a full year out of them. Not sure how well they will manage to nurse their way through the season at this stage of their careers. I tend to be a little skeptical about their ability to sustain and be effective over 16 games. Maybe they get a few decent games out of Winslow, who has flashed well; not sure Edwards makes the team.
•  Rookie nose tackle Sheldon Richardson will make an impact immediately. He could end up being the best defensive rookie in the NFL this season, especially with Ryan now so focused on the defense and scheme. Dee Milliner missed some time early on, but the rookie corner is coming on some now, too.
•  I can't help but wonder if Quinton Coples will ever be more than a situations pass rusher, but he is having a decent camp. No one seems ready to anoint him, yet, though. "Right now the light bulb is starting to come on for Q, and he's starting to play the way we expect him to play," defensive coordinator Dennis Thurman said. Coples was a 2012 first-round pick.
•  Overall, this secondary will probably struggle some early on. Losing Darrelle Revis is massive and safety LaRon Landry was a presence as an enforcer and played well in 2012, too. Milliner will help over time but Kyle Wilson looks like he could be another bust, and the safety position is unsettled at this point in camp.
"You're talking about replacing three starters and some guys are former Pro Bowlers," Thurman said. "It's going to take time."
•  Hard not to notice how trim Ryan is looking these days, probably in the best shape he's ever been. He looks fortified for the challenge ahead, and it will be a challenge given the limitations of this roster at this stage in the overhaul.
Here's every official injury designation for each NFL team for Week 12

Larry Hartstein is on an 8-2 NFL run and gives his best three-team NFL parlay for Week 12

Plus baby names, kicker issues and other things of interest from NFL on Thanksgiving
It was foretold, and King delivered

Kareem Hunt has fallen off after a hot start, but he can get back on track against Buffalo

A Dallas Cowboys Salute to Service thermal pullover makes for the best early Black Friday...