Jets QB Geno Smith on his struggles: I was playing like a robot
Jets quarterback Geno Smith says that part of the reason he's struggled this season is because he started to play like a robot.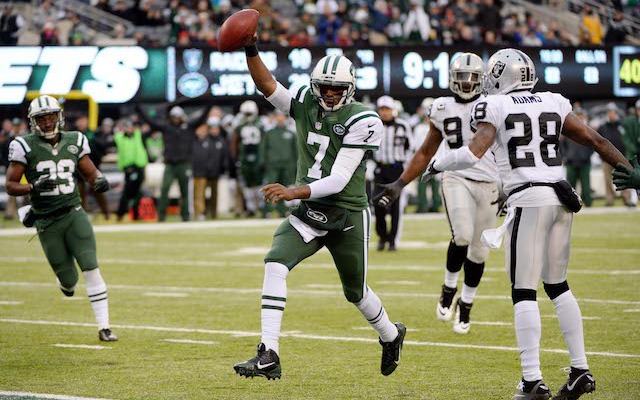 Before Sunday's 37-27 victory against the Oakland Raiders, Jets quarterback Geno Smith had been struggling. From Week 8 to Week 13, Smith didn't throw a touchdown pass and in that same period, he threw eight interceptions. Things got so bad that Smith was benched in the second half of the Jets Week 13 loss to Miami. 
Smith believes he was struggling because he took the human element out of being a quarterback, "I was playing like a robot. Everything is not ideal on the field. Sometimes you've got to improvise," Smith said, via the New York Times.
The rookie quarterback got back to his improvisational ways against the Raiders. Smith scrambled five times for 50 yards against Oakland, the highest rushing total of his 13-game career. Smith also added a rushing touchdown in the game, which was good news for the Jets, because they're 4-0 this season when Smith scores on the ground. 
Before playing the Raiders, Jets offensive coordinator Marty Mornhinweg basically told Smith to stop being so uptight and have fun. 
"I think I kind of got into this zone where I just tried to be way too perfect. And that's almost impossible to do at any level, especially as a rookie," Smith said. "There were times where I was so caught up in running the play and executing it to perfection that I didn't allow my natural ability to take over."
Playing well against the Raiders is one thing, but things will probably be slightly more difficult for Smith and the Jets offense this week. New York will be playing at Carolina against the Panthers No. 2 ranked defense. Carolina has the fourth most sacks in the NFL, so maybe being a robot this week would be a good idea, because then Smith wouldn't feel any physical pain. 
The NFC is going to be a blast to watch down the stretch, but don't sleep on the Patriots'...

The Dolphins just created a serious shock in the AFC and MVP races by beating the Patriots

With their 2017 season basically over, it's time for Texans fans to turn their attention to...
Now 10 different players have intercepted Tom Brady multiple times in one game

Brady lofted it between two defenders and Lewis snatched it with one hand