Jets RB Mike Goodson indicted on weapons charge
Jets running back was indicted on two charges in New Jersey on Thursday. The indictment stems from Goodson's arrest in May.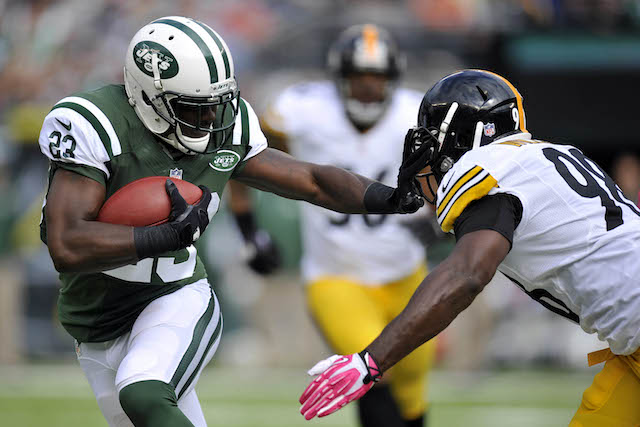 The Jets signed running back Mike Goodson to a three-year, $6.9 million deal in March and it looks like Goodson is going to have spend some of that money defending himself in court. Goodson was indicted on two weapons charges on Thursday, the Morris County (N.J.) Prosecutor's office announced. 
The charges stem from Goodson's May 17 arrest when he was the passenger in a car whose driver was charged with DUI. Goodson has been indicted on a second-degree charge of unlawful possession of a handgun and a fourth-degree charge of prohibited weapons and devices.
The second-degree charge was handed down because police found a .45-caliber Taurus handgun in the car. The fourth-degree charge was handed down because the gun was loaded with a hollow-point bullet. 
"Nothing surprising," Goodson's lawyer, Tony Fusco, Jr. said, via the New York Daily News. "We had been waiting for it, at least now we start the formal procedure to get this guy exonerated."
Goodson only played in two games with the Jets this season. The 26-year-old running back was suspended for the first four weeks of the season, then tore his ACL and his MCL in his second game back. After the Oct. 13 injury, the Jets placed Goodson on injured reserve. 
The former Buccaneers kicker did not have things start well for him in Chicago

Bears special teams showed up in a big way against Arizona

Beast Mode got loose with Oakland and looked pretty impressive in the early going
Beast Mode was one of several players to sit during the Raiders-Rams game

The cleaning staff in Houston missed a couple of things while cleaning up after Super Bowl...

Marvin Jones had some serious fun in the end zone after scoring against the Jets