Jets sign Brady Quinn as fourth QB on roster, release Graham Harrell
As the quarterback carousal continues to spin, the Jets have signed Brady Quinn and released Graham Harrell.
• 1 min read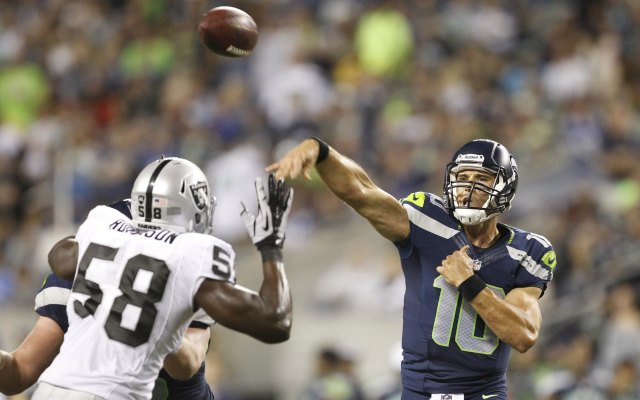 At times, the Jets quarterback carousal spins so violently that the round-and-round motion could make you nauseous.
Which leads us to the team's announcement Monday afternoon that it has released recently-signed Graham Harrell and signed Brady Quinn.
Harrell was signed last week but Quinn was released from Seattle when the Seahawks had to get down to their 53-man roster limit and chose Tarvaris Jackson instead of Quinn as the backup to Russell Wilson.
But here's the thing: why would the Jets take Quinn now after Matt Simms played well in the preseason and seemed to lock up the No. 3 quarterback spot behind Geno Smith and the injured Mark Sanchez?
We don't know who's starting for the Jets in Week 1, and now, we don't seem to know why the team needs four quarterbacks on the roster (unless Sanchez's injury now is a long-term problem).
Either way, we can now say this that the team has signed Quinn. The Jets problems are officially ... solved.


Follow Josh Katzowitz on Google+
The Ravens quarterback won't be on the field when the team begins training camp

The Chargers might have just found a new backup quarterback

One NFL owner says he'd have 'no hesitation' signing Colin Kaepernick
The Cowboys receiver made a young boy's birthday wish come true

The new Packers tight end had to find a place to sleep after being locked out of his camp...

Lucky Whitehead says he had an awkward face-to-face meeting with Jason Garrett