Jets training camp: Is deck stacked for Geno in QB battle with Vick?
How fair will this Jets QB battle be? Not very, it seems, but just because Mike Vick isn't getting a fair shake doesn't mean he won't end up the starter.
• 9 min read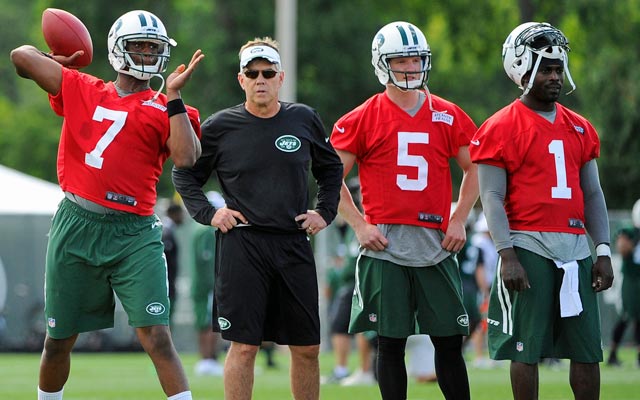 More NFL: Photos |   Videos & GIFs |  Stories | Training Camps |  Manziel watch 
CORTLAND, NY -- The New York Jets just completed their second -- yes, second -- practice of training camp Friday, they have yet to put on full pads and many of the players are still trying to figure out how to get around the SUNY Cortland campus for practices and meetings. But, the dissection of the quarterback rotation is in midseason form.
Every snap is being counted and documented, every potential slight -- real or perceived -- between how youngster Geno Smith and veteran Michael Vick are treated is grounds for a potential controversy. The team hasn't been on the field a week yet, is still sorting out its depth at various positions on offense and hasn't had the opportunity to even spread around first-team reps yet, but the fact that Smith took roughly three-fourths of the reps with the starters Friday made for news, with coach Rex Ryan and general manager John Idzik probed in varying ways about just how egalitarian this QB competition really is.
The underlying current to it all, especially after some recent comments by veteran linebacker David Nelson about this being "Geno's" team, is that Idzik will stack the deck to make sure the kid he drafted in the second round a year ago -- his first draft as a GM -- ends up getting the job, perhaps even unfairly. Of course, with weeks of practice and four preseason games still to play, and given the fact that Vick already has a certain mastery of this system and terminology given his years together with offensive coordinator Marty Mornhinweg running it in Philadelphia, it didn't strike me as much of a surprise that the kid QB was getting the bulk of the work with the starters. You can rest assured that this daily battle will be chronicled with great detail, with plenty of skepticism already swirling around these parts.
"Competition is not just about counting the reps," Idzik, a pragmatic, low-profile decision-maker yet to make major inroads with the New York press, said during one of his rare meetings with the media, with yet another re-framed quarterback competition question served his way. "There will be an ebb and a flow."
There were no raised tempers, everything was cordial enough during the press conference, but the undercurrent was obvious. Then, again later, when asked about Nelson's comments on Smith, Idzik, almost pleading, urged hopefully if we could all "let this thing play out."
Wishful thinking on his part.
Quarterback for the Jets is a constant flashpoint, and whether it be the misguided acquisition of Brett Favre, the big trade up into the first round to draft Mark Sanchez followed by the fall of The Sanchize, the always-doomed flirtation with Tebowtime, or through Smith's foibles last season, undoubtedly there has been plenty of reason to question what in the hell is going on with the team at the most important position in professional sports. I get it. The desire to know right now which of these two guys is going to play the bulk of the regular season games and be the starter? Yeah, I understand where some of it is coming through.
"Really, there is no timetable on it," Ryan said about when he needs to declare a starting quarterback. "It's going to play out the way it's going to play out."
It's also true that these things generally have a way of sorting themselves out. In Vick, they more or less know what they have. He has produced in this system and has a comfort level in this system -- he has a presence and a confidence and lifetime of experience, real world and on the field, that Smith cannot come close to realizing after his 16 starts in the NFL. And this team, as much as players and coaches are talking about the playoffs already, needs to be constructed with the future in mind, more so than the present. The Jets are still transitioning.
So Smith should get heavy work early. It only makes sense. Build him up. Make it his job to lose ... knowing full well that he just might lose it. He should get a lot of work, maybe even all the work, with the starters in the first two preseason games, and by the third game, let the production to that point indicate how much or little Vick plays with the starters in the final few games. Vick should be able to produce even with limited reps at this stage of his career -- it's precisely why he is a Jet in this situation.
In the end, both Ryan and Idzik know it's in their best interest to win football games, and have the quarterback on the field who gives them the greatest chance to do so. The Jets managed to go 8-8 a year ago despite Smith very much taking his lumps. At the QB position, the Jets finished dead last in production with a 66.6 rating and just 13 passing touchdowns to go with 22 picks, third-worst in the NFL.
If, say, by late August it's become pretty clear that Vick is the better option and could far eclipse the QB production from a year ago and give them a shot at being in the postseason picture in a watered-down AFC, you don't think they're going to give the man a chance to play?
I certainly do. In the end, job preservation matters, and Ryan's contract extension last offseason offered very little in the way of true long-term guarantees. Owner Woody Johnson is capable of pretty much anything come January if this club falters badly. I don't foresee any conspiracies against Vick. If anything, his presence should help the youngster, and they seem affable on the field, Vick offering high fives and gestures of encouragement. "I think it's fabulous for Geno," star center Nick Mangold said of Vick's mentorship.
And while Smith did in fact seem more comfortable than at this time a year ago, as several players pointed out, he also did sail some balls, wasn't always sharp, and the speed with which Vick can operate this offense is quite noticeable at times. But, again, it's Day 2 for goodness sake. This is a decision to be mulled and made over time, and not nearly enough evidence is in just yet. I have a strong hunch that no matter who throws the first pass of the season, Vick ends up playing the bulk of the reps that really count. Maybe Smith's development exceeds my expectations. But getting 75 percent of the snaps Friday, ultimately, will have very little to do with it.
Will Wilkerson get extension?
Idzik's biggest matter of business should be an extension for Muhammad Wilkerson, a dominant and versatile defensive end who has become the pulse of this defense and, though still a pup, is already the leader of that dominant defensive line, by far the biggest strength of the team. Wilkerson is due to make just $1.2 million this season, and, like all stars from his 2011 draft class, the first under this CBA, is handcuffed by the fifth-year option hanging over him for 2016.
There has been no movement toward a new deal, though, with a new regime in place, and sending a strong message to this locker room about rewarding its best players is essential. Wilkerson deserves to be paid like one of the top defensive players in the league, with guaranteed money reflecting as much (a year ago I called him a $30M-man in the making, but frankly he's outperformed that).
"I don't worry about it," Wilkerson said of his contract situation. "That's what I have an agent for. I let him handle the business side of it and I just try to focus on being a leader of this team and try to better myself as a player." But surely he has to have noticed that no first rounder from his class has received an extension yet, despite it boasting the likes of Cam Newton and JJ Watt. "I know nobody from my draft class has gotten a contract, but I can't focus on nobody else by myself."
Ryan, jovial as always today, sidestepped my inquiry to him about the need to show his young players they will be rewarded financially, unusual for the notorious straight-shooter. "Thanks for the softball ... I'm trying to avoid that question," he chuckled at first. "Those situations will work out in the end. We're happy to have Mo on our football team. We know he's an ascending player. When we drafted him you're hoping a guy pans out like this."
The salary cap and contractual mess Idzik inherited has been sorted out, with the team sitting on ample cap room after free agency. Considering the cap is slated to continue jumping in future years, with the Jets not needing to take care of anyone else financially while their quarterbacks make a relative pittance in the present and foreseeable future … it's time to pay Wilkerson, now, before the season begins. He's waited his three years. Some team will have to be the first to step outside the box, forget about the fifth-year bargain many of these players would be, and just do the right thing. Jets might as well be that team.
Jets camp notes
• It's striking how much the atmosphere in Cortland has changed in a few years. It used to be overrun with people in the stands during Tebowmania, with seemingly everything going on except actual football at times. There's a much healthier culture here now, and dramatically fewer onlookers.
•It was refreshing to see the entire defensive line walk out to the field as a single unit, which is hardly often the case. Seems to be real solidarity there and a genuine friendship among the young unit, and most have just scratched the surface of who they can be. Sheldon Richardson might have a defensive MVP in him at some point down the road.
• Newly acquired pass rusher Jason Babin, who has tended to quickly wear out his welcome at times in the past, is being experimented with all over by Ryan, always creative. He could play on either side, at times as an end or linebacker. And despite his limited coverage skills, he was getting a run dropping back as well.
• The Jets are having their entire on-field staff, including it seemed even PR interns, do a slate of pushups after every flag. They might have the buffest media relations group in the league by the end of this camp.
• RB Chris Johnson flashed his explosiveness at times while wearing shells and helmets, and Bilal Powell did as well.
• Early in practice a Wildcat snap, with Smith at running back, sailed well wide. It did not go unnoticed in the stands. "Don't run the Wildcat again, ever!" one fan shouted, having flashbacks of the Tebow/Sparano misadventures from training camps past, perhaps.
• There were a fair amount of dropped balls in Friday's practice including a few by second-round pick Jace Amaro, who most would expect to be the starting tight end at this early point in the summer.
• Mangold, who used to have long flowing blond locks to rival Clay Matthews, has chopped several inches off. Alas, no one asked him about the new look during his media briefing. "Not one hair question?" he muttered while walking off. "That's a shame. Crushing blow."
• Veterans Willie Colon and Antwan Barnes, both of whom could be pretty significant contributors to this team, were not practicing as they remain on the PUP list, trying to get healthy enough to fully participate.
Like everything with Luck, there's some good news and some bad news with his latest health...

The top would-be free agent wide receiver is officially off the market

A billionaire owner of the Pittsburgh Steelers is hoping to buy the Carolina Panthers
The crop of free agent offensive linemen just got better

Laurent Duvernay-Tardif might have just made one of the most unique jersey requests in NFL...

The new Raiders coach offered some details on what he wants from Marshawn Lynch