Jets training camp: Regardless of QB, Ryan's reviving ground and pound
Geno Smith or Michael Vick could be the QB, and it might not matter. Rex Ryan will run the ball (hello, Chris Johnson) on offense and rely on stout front seven on D.
More NFL: Photos | Videos & GIFs | Training Camp updates | Manziel watch
CORTLAND, N.Y. -- I arrived at camp with the preconceived notion that these Jets are a middle-of-the-road club with a coach on the hot seat. But the first thing I heard was 100 percent of the players passed the conditioning test for the first time in Rex Ryan's tenure, and what I saw later in practice was a confident coach who seems to have his mojo back, partly because of his defensive front and the depth at running back.
Coming off a season when the Jets endured a win-one, lose-one cycle the first 10 weeks, this year offers a brutal six-week stretch starting in Week 2. The Jets face Aaron Rodgers, Jay Cutler, Matthew Stafford, Philip Rivers, Peyton Manning and Tom Brady in consecutive games, so they better be ready early.
What to expect on offense: OC Marty Mornhinweg runs a West Coast attack, but expect different variations with emerging Geno Smith and the addition of Michael Vick at quarterback. Vick could possibly squeeze out one or two more wins than Smith this season, but is it worth giving up on the young quarterback? The Jets don't think so and neither do I. But Vick should be used more like a role player than a backup, and I think we'll see some of that. Beyond QB, don't be surprised to see the Jets run it close to 40 times a game. Ryan's best success has come via a big running game, and when I suggested he could run the ball more than the Seahawks did last season, Ryan just smiled. Put it together and the Jets could employ a very interesting vertical passing attack off a Chris Johnson-led ground game. The Jets have real speed at wide receiver with at least three receivers who have 4.3 40 speed. Possession receiver Eric Decker is not one of those burners but will be a major contributor.
What to expect on defense: Linebacker Demario Davis said it best: "We aren't the best yet and we have a lot of work to do." Vick characterizes the defense as "bizarre," with all the looks and pressures. This front seven has the potential to be a top-three group, but the secondary must hold up some against some of the league's better passing games. A Ryan defense means pressure, pressure and more pressure. But are the corners good enough to hold up on their own? Dimitri Patterson, who has missed 19 games the pasts three seasons, takes over for departed Antonio Cromartie and must stay healthy and play well for this defense to work. Safety is an interesting position group with names like Dawan Landry, Antonio Allen Jaiquawn Jarrett, Josh Bush and rookie Calvin Pryor. Ryan likes the size of the group but Pryor (suffered a concussion) must remain healthy so he doesn't get behind the learning curve. There's little doubt opponents will try to isolate these safeties in the passing game. Ryan will employ a big nickel package using three safeties, especially if they incur an injury or two in the linebacker group, which is not very deep.
This defense is good enough to get the Jets to 8-8, but anything beyond .500, or reaching the playoffs, requires creating more turnovers and getting help from the offense.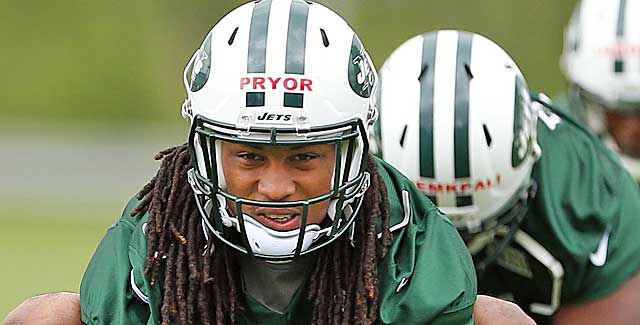 Rookie report: Hard-hitting first-rounder Pryor, who will start at strong safety, "packs a big punch," one coach said. Second-round pick Jace Amaro recognizes he has a long way to go before he's an accomplished blocker but is confident he can beat press coverage, catch the ball and make plays in the open field. I see Amaro as a situational player this season and could evolve into a complete TE by 2015. The third-round pick, CB Dexter McDougle, will come off the bench when an injury hits the corners and probably will start before season's end, ready or not. WR Jalen Saunders, the fourth-round pick from Oklahoma, looks like a keeper and could find a role as the fourth receiver. Sixth-rounder Tajh Boyd, the former Clemson QB, is struggling and looks bound for the practice squad. Seventh-rounder Trevor Reilly is an OLB who demonstrated pass-rush and special-teams skills at practice good enough to make the squad.
On the bubble: There aren't any big name starters on the bubble at this point. It appears Alex Green and RB Daryl Richardson will fight it out for the fourth RB spot. The same could be said at safety where Josh Bush and Jaiquan Jarrett are in a battle. WR Stephen Hill isn't in jeopardy of being cut but could lose his starting spot to David Nelson if he struggles in camp. The late addition of DE Jason Babin will put pressure on Jermaine Cunningham. Cornerbacks Ras-I Dowling and Johnny Patrick could struggle to make the final cut.
Final thoughts: Every time there's a penalty during practice, everyone -- including the ball boys and the officials -- does 10 pushups. Everyone except the player called for the penalty. Ryan says he wants the guy who punished the team to stand and watch the pain his action inflicted on everyone else. The team did a lot of pushups while I was there, but it actually looked like a positive step, and every player I talked to said he was OK with it because it fosters focus. ... The attitude in Cortland was very good and this team could be dangerous, especially in the second half of the season. I see the Jets as a wild-card contender which will run the ball very well and stop the run even better.
There are apparently some people within the Packers who are worried about him playing

Reports of Tom Brady's demise are premature

Emory Hunt has his finger on the pulse of the Boys and locked in a strong pick for 'Sunday...
Larry Hartstein has his finger on the pulse of the Bears and has a strong pick for Bears-Lions...

The Pittsburgh linebacker was placed on injured reserve Tuesday

Steelers coach Mike Tomlin wanted the Patriots and now he's got them