Jim Brown doesn't see anything 'outstanding' about Trent Richardson
Already, legendary Browns running back Jim Brown has called No. 3 draft pick Trent Richardson ordinary. Now, he further explains his feelings why.
• 2 min read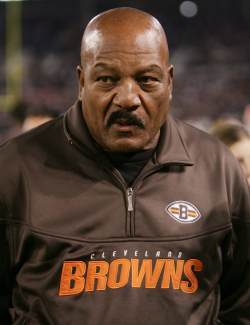 Jim Brown still isn't impressed with Cleveland's newest running back. (Getty)
If Jim Brown isn't careful, he's quickly going to cross over into Joe Namath territory, and considering how much Namath bashes the Jets -- and makes himself sound completely bitter and
out of touch
while doing so -- that's not a great direction for the legendary
Browns
running back to go.
Soon after the Browns traded up to the No. 3 spot to take Alabama running back Trent Richardson in the first round of the draft, Brown called him
an "ordinary" back
. What was ordinary? Apparently, just about everything, including Richardson's size, his speed and his moves.
Luckily, Brown had a chance to redeem himself and to be more complimentary to the player who's following in his path as a running back in Cleveland. Let's just say Brown did not take his chance.
"When you think of greatness and the great backs, they all had some individual traits that you can identify -- quickness, balance, power, speed," Brown said Wednesday when reached at home by
ESPN Cleveland's
Tony Grossi. "I think the kid is a good working back, and if you've got everything else around him he can play his role. But when it comes to outstanding, I don't see anything outstanding about him. It's not said in a cruel manner. He's very efficient, and that's what you want."
Grossi asked Brown on what he was basing his opinion.
"I'm basing them on highlights, and highlights show the best of you," he said. "But here's the deal, he can change everything that I've said."
OK, first of all, I'm no football film expert, but I'm pretty sure you have to watch more than "highlights" to intelligently analyze a player's skills. Two, Brown undercuts his own analytical chops by saying, basically, that Richardson could prove him wrong completely.
But go ahead and read Grossi's entire story, because Brown has other issues to talk about (whether he's bitter after getting cut out of Cleveland's franchise and what he thinks about Adrian Peterson).
"Here's my last thing to you," Brown said. "I think Richardson is a fine young man. I think he's a good all-around football player. But from my standpoint, that's ordinary. You talk about someone that's going to move or light up the franchise or create a certain kind of thing, that's what I'm talking about. I'm not trying to be mean. There are certain people you look at and there's something special about them. I don't see it."
For more NFL news, rumors and analysis, follow @EyeOnNFL on Twitter, and subscribe to our Pick-6 Podcast and NFL newsletter. You can follow Josh Katzowitz on Twitter here: @joshkatzowitz.
After an injury to Trevor Siemian, Brock Osweiler entered the game and helped the Broncos to...

The 32-year-old running back is done for the year

Brandon Williams was involved in a scary situation in the first half against Denver
The Broncos are turning back to Osweiler after an injury to Siemian

The Cowboys legend admits he's not on 'great' terms with the Cowboys suspended running bac...

Here's the latest information on injured Steelers linebacker Ryan Shazier