Jim Brown says 1964 NFL title ring up for auction was stolen from him
Five decades after he says his 1964 NFL title ring was stolen from him, Jim Brown's jewelry is up for auction.
• 1 min read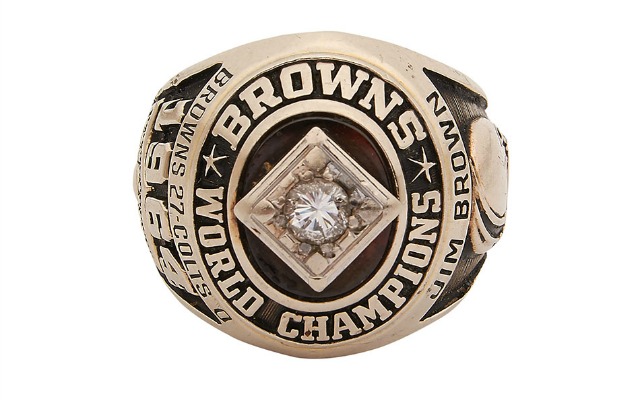 The 1964 NFL title ring that was presented to and worn by Browns Hall of Fame running back Jim Brown has gone up for auction at Lelands.com, and with four bids, the price, as of 6:30 p.m. Monday, is up to $33,275.
But here's a wrinkle in the sale: Brown says that the ring was stolen from him five decades ago.
"It was stolen from me many years ago, in the late 1960s," Brown told the St. Paul Pioneer Press. "I'm surprised to hear that it's publicly for sale because whoever got it should know that I didn't give it up."
Brown -- who rushed for 114 yards on 27 carries in Cleveland's 27-0 victory vs. the Baltimore Colts in that championship game -- was unaware of the auction, which ends July 25, until he was told by the Pioneer Press.
"I'm going to see what I can do about it," he said.
According to the Lelands.com description, "The ring was obtained directly from a Brown immediate family member and sold by Lelands.com in 1998. During that original auction preview, Jim Brown himself inspected the ring and acknowledged its authenticity. One of the most important sports pieces ever sold, this gem is without a doubt the finest football piece ever to reach the market. As a sports ring, it is rivaled only by Babe Ruth's 1927 New York Yankees World Series ring ... The provenance and chain of title is well-documented: Jim Brown to family member to Lelands to Cleveland Sport Collection auction buyer back to Lelands.com and now to you."
As for possibly getting back the ring, Brown said, "I'd really appreciate that. That would be very cool."
Hernandez was 27 when he committed suicide in April 2017

Mowins is set to become the first female play-by-play announcer in NFL on CBS hisory

The Rams have struggled against the 49ers but that was during the Jeff Fisher era
The Cowboys' running back owns his mistake, says it was 'just bad effort'

Casey, who died at 78 on Wednesday, was a top-10 pick in the NFL Draft and an eventual Pro...

Manning was unfazed when his coach called him out after the Giants' latest loss