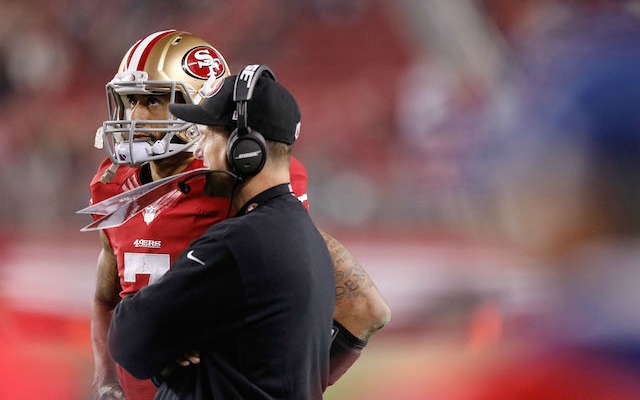 Forty-niners quarterback Colin Kaepernick hasn't been very talkative with the media lately. During his weekly press conference on the Wednesday before the Raiders game, Kaepernick did a three minute interview and gave the media exactly 87 words. 
After the 49ers 24-13 loss to Oakland, Kaepernick wasn't exactly talkative either.
Coach Jim Harbaugh defended his quarterback's interview skills last week and on Tuesday, he found himself having to defend Kaepernick again, only this time it got a little ugly.
During an interview with KNBR-AM in San Francisco, Harbaugh was asked about Kaepernick's behavior with the media. While asking the question, the host compared Kaepernick to a teenage kid, a comparison that prompted Harbaugh to end the interview.
From the show (via 680 KNBR-AM). 
KNBR host: You gave a spirited defense of (Kaepernick) on Friday. I found it very interesting, your words, you were very eloquent with your words in defending Kaepernick's behavior with the media. And I'm wondering now that it happened again on Sunday, and it reminded me of a teeange kid at the dinner table not wanting to talk about his day at school ... man, Jim I go back so far, I was a beat writer in '96 when you were the Colts quarterback playing the 49ers, and we had you a conference call and you told a great story about your dog getting sick and then healing back up and all that. And you charmed us man, we were feeding from your palm. And I'm just wondering why you can't nudge Colin Kaepernick to do a little more of that?"

Harbaugh: I kind of feel like you're trying to provoke.

KNBR host: No. No. People want to know what's going on.

Harbaugh: It's kind of insulting when you call him a teenage kid or compare him to a kid. I think very highly of him. Think the world of him. True competitor and I'm gonna disagree with you.

KNBR host: We hear from a ton of listeners and fans who are insulted by him not giving his all in the postgame. Can't you see their point of view?

Harbaugh: I see the point of view of he wasn't chatty. That was last Friday. And I really don't want to have the conversation. I'm going to move on with my day.

KNBR host: Alright. We'll let you go. We'll put you out of your misery. We won't torture you any longer. How's that? Have a great Sunday in Seattle and thanks for coming on.
The interview was so awkward, KNBR's listeners could sense it. 
oh man Jim Harbaugh's radio show....sooooo uncomfortable.

— Mike Mabie (@Mike_Mabie) December 9, 2014
Raiders owner Mark Davis joked on Sunday that the 49ers have stolen his team's dysfunction. Maybe that wasn't a joke. 
You can listen to the entire Harbaugh interview here.