Jim Harbaugh: San Jose State's David Fales is top-5 QB in draft class
Jim Harbaugh got a first-hand look at former San Jose State quarterback David Fales this week and the 49ers coach believes Fales is one of the five best quarterbacks in the 2014 NFL Draft.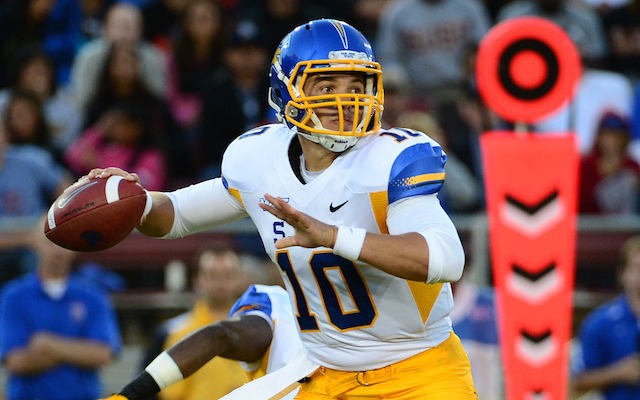 More NFL offseason: Mock Drafts | Prospect Rankings | Pro days | Top free agents
In three seasons as an NFL head coach, Jim Harbaugh has proven at least one thing: He knows a good Mountain West quarterback when he sees one. 
Take former Utah quarterback Alex Smith for example. When Harbaugh arrived in San Francisco in 2011, Smith had already been with the 49ers for five pretty unsuccessful seasons. Before Harbaugh's arrival, Smith went 19-31 in 50 starts.
Instead of dumping Smith right away though, Harbaugh kept him around for two seasons and the former No. 1 overall pick went 19-5-1 in 25 starts under Harbaugh. And just in case you're wondering, during Smith's college years, Utah was in the Mountain West. 
In 2011, the 49ers coach plucked former Nevada quarterback Colin Kaepernick out of the second round of the NFL Draft. 
This year, Harbaugh thinks there's another Mountain West quarterback who could do some damage in the NFL: Former San Jose State quarterback David Fales. 
"I'm a big fan," Harbaugh said of Fales, via the San Jose Mercury News. "My personal quarterback evaluation of this class has David in the top five."
Harbaugh didn't list his top-five, but he did list the reasons why he likes Fales. 
"I think he sees the field. I think he throws the ball downfield," Harbaugh said. "A lot of quarterbacks are doing what they're taught in their systems. He's a guy that is an example of a quarterback who throws to the outside lanes. He throws the ball in the seams and gets it downfield and sees the field well. He's got a real savviness about the position."
In CBSSports.com's latest draft rankings, Fales is currently listed as the 10th best quarterback available. One of the knocks on Fales is his arm strength, but Harbaugh didn't see that while watching him at the 49ers' local Pro Day on Friday. 
"You see a very compact throwing motion, more compact than I saw during his career," Harbaugh said. "But he was still throwing the ball 50-55 yards downfield, throwing the deep comebacks, the outside lanes like he threw in college. Easily, accurately and on a line. We talked a little after the workout. I don't see any deficiencies that way."
Fales is currently projected to go in the fifth or sixth round of the draft, but if other coaches are seeing what Harbaugh's seeing, the former San Jose State quarterback might end up shooting up a few rounds in May.  
Here's an up-to-date look at the 2018 Pro Bowl roster

Bettors are favoring the Eagles to keep Super Bowl LII close, but the Patriots remain clear...

Here's everything you need to know about Super Bowl LII
Here's a look at the NFL's entire postseason schedule for 2018

Here's all the details you need to know on watching Super Bowl LII between the Patriots and...

All of the information you need to know about the 2018 Super Bowl