Jim Harbaugh: 'There's no tolerance' for domestic violence
If one of his players is found guilty of domestic violence, it sounds like 49ers coach Jim Harbaugh will rid himself of that player.
• 1 min read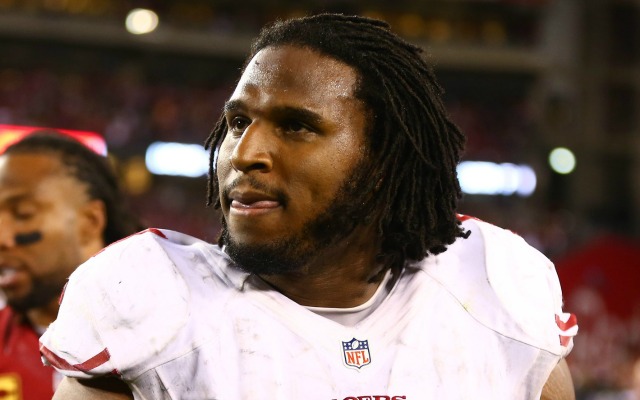 Let 49ers coach Jim Harbaugh be clear about one thing: if one of his players lays his hands on a woman, Harbaugh will have no tolerance for that player.
He's said it before (when Donte Whitner informed all of us that Harbaugh said to his team, "If you put your hand on a woman, then you're done in his book"), and during his radio show on KNBR (via CSN Bay Area), Harbaugh -- whose team was rocked this weekend by the arrest of defensive tackle Ray McDonald, who was charged with domestic violence -- said it again.
"You ask me how I feel about domestic violence. I can be very clear about that. If someone physically abuses a woman and/or physically or mentally abuses or hurts a child, then there's no understanding," Harbaugh said. "There's no tolerance for that."
Asked if he would clear his team of a player who was found guilty of domestic violence, Harbaugh said he would.
On Sunday, McDonald was booked at 5:30 a.m. for "inflicting injury on a spouse or cohabitant" during his birthday party. Officers said when they arrived, McDonald's fiance showed them bruises on her body, and they took him into custody.
When he posted a $25,000 bond later Sunday, McDonald said the "truth will come out" and that it was a "crazy situation."
It sounds like the 49ers will let his side of the story emerge before acting.
"There are going to be two principles at play here," Harbaugh said "And one is, I'll speak for myself, I'll speak for the 49ers: We'll not tolerate domestic violence. The second principle, we're firm believers in is due process. And I ask for your understanding on those two principles."
The people of Philadelphia now have two reasons to root for the Eagles this week

You might not recognize the Patriots' defensive coordinator without his beard

T.O. definitely isn't a fan of the Cowboys head coach
R.J. White, who nearly won the Vegas SuperContest, locks in his pick for the AFC Championship...

This player probably won't be too popular in New England if the Patriots lose on Sunday

The connections between the Eagles and Vikings quarterbacks are endless