Jim Kelly: 'I lost a lot of respect' for LeSean McCoy for his actions during anthem
The Hall of Famer and former Bills great also thinks Trump needs to quit Twitter
After a Sunday filled with demonstrations during the national anthem in response to President Donald Trump's comments about the league's players, Hall of Famer and Bills legend Jim Kelly spoke out against those who would take a knee during the anthem while still calling for unity.
"Even though I'm thankful the Bills won today, I'm really upset and sad about what's happening," Kelly said in an Instagram post. "And I imagine many of you are too. I love the game of football and all that it means to the players, fans and cities across THIS country...but with all that's going on it's hard.
"The only time I will ever take a knee is to pray and to thank the Good Lord for what he's given me. We all have our issues. We all need to try and appreciate and understand each other and help each other and that goes for our PRESIDENT TOO.
"I don't have all the answers. "But I do know that we need to UNITE not SEPARATE. I hope next week we can STAND , LOCK ARMS and become ONE FAMILY."
Sunday's protests came some 36 hours after the president told supporters at a rally in Alabama, "Wouldn't you love to see one of these NFL owners, when somebody disrespects our flag, to say, 'Get that son of a bitch off the field right now. Out. He's fired. He's fired!"
By Monday morning, Kelly was the latest to weigh in on Trump's remarks.
"I am so sick and tired of what's going on in this country," Kelly told Buffalo's 97 Rock, via ESPN.com's Mike Rodak. "Our president needs to focus on other countries – North Korea, Russia, and everything else that's going on everywhere else. I promote it, I like Donald Trump. I get sometimes what he says, and sometimes he needs to quit on Twitter. He needs to get off of it and focus on what's going on everywhere else instead of what's going on in the NFL.
"It's driving me nuts, and it's driving people away from the game of football. It's having players do things that I feel is unacceptable. But the thing is, this is 2017. And I'm trying to hope the president understands. This is not the 70s and 80s anymore. And I get it. As a player, I feel what he's saying is wrong. I do. And the thing is, as I stated in my Instagram post, there's only when I will ever kneel, and that is to thank the good lord for what I've been given. Period. I don't care what it is. The thing is, the players, you made your point. I get it. I understand it. I'm a former player. Black or white, it does not matter."
During the anthem Sunday in Buffalo, the Bills' entire sideline walked a few steps toward midfield with some players taking a knee amidst boos from the crowd. Running back LeSean McCoy knelt -- and stretched.
"The flag, the national anthem means a lot to me, to my teammates," McCoy said after the game. "We had a long meeting Saturday night, and I was very bothered by the comments of our president, of this country. As a president, you're supposed to lead, and you're supposed to bring us together. You're supposed to lead this country. I can't stand and support something where our leader of this country is just acting like a jerk, angry and upset about NFL players protesting in a peaceful manner."
Kelly was asked about McCoy on Monday.
"I like LeSean McCoy, don't get me wrong, but I totally, 100 percent I disagree with what he did," Kelly explained. "You want to kneel? Fine. But when you go and do what he did yesterday, that sort of bummed me out. And I lost a lot of respect for him. ... You want to kneel? That's your prerogative. I would never do that. I will always stand, thank the good Lord for everything I got. But when you disrespect the way he did and just go by his everyday duty in the national anthem being sung? Uh-uh. I won't go for that."
Bills owners Terry and Kim Pegula were one of 26 NFL owners to speak out against the president's comments, calling them "divisive and disrespectful to the entire NFL community."
For a recap of everything that has happened in response to Trump's remarks, be sure to read this.
Pick Six Newsletter
Get the day's big stories + fun stuff you love like mock drafts, picks and power rankings.
Please check the opt-in box to acknowledge that you would like to subscribe.
Thanks for signing up!
Keep an eye on your inbox for the latest sports news.
Sorry!
There was an error processing your subscription.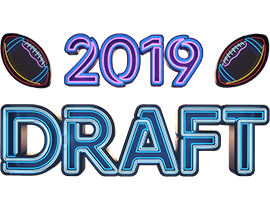 Get Live Coverage of Every Pick
There's a collection of talented receivers available, and my top quarterback remains on the...

Miss any of the action of the first round of the draft? Don't worry, we have you covered

Get our draft analyst's thoughts on every pick made in the first round as it happened
The Redskins made two first round picks on Thursday

Find out which picks your team owns with the 2019 NFL Draft set to begin

Pete Prisco grades the first 32 picks of the 2019 NFL Draft