Jim Kelly to serve as honorary captain at Hall of Fame game
Jim Kelly will be serving as the Bills honorary captain during the Hall of Fame game on Aug. 3.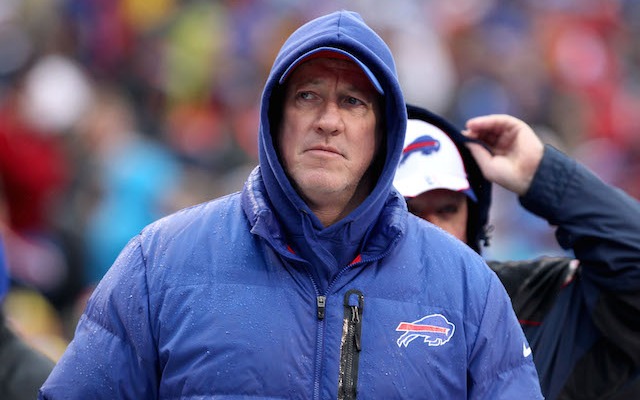 More NFL: Photos |   Videos & GIFs |  Stories | Training Camps | Johnny Manziel watch 
Jim Kelly is returning to the field. The Pro Football Hall of Fame announced on Thursday that the former Bills quarterback will serve as an honorary captain at the Hall of Fame game between the New York Giants and the Buffalo Bills on Aug. 3.
When Kelly takes the field at Fawcett Stadium in Canton, Ohio, it will come less than two and a half months after he finished radiation treatment for a cancer that returned in March. 
Not only are the Bills playing in the game, but Kelly has at least one other reason to be there: One of his former teammates is being inducted into the Hall of Fame. 
"I have always said that God willing, I will be back in Canton every summer," Kelly said in a statement. "This year especially, I am so thankful that I can be on hand to share in a great weekend that shines the spotlight on the Buffalo Bills. There isn't a person more deserving of joining the Hall of Fame than my teammate and friend Andre Reed."
Reed and Kelly played together for 11 seasons in Buffalo and helped propel a Bills offense that led the team to four straight Super Bowls. Reed's enshrinement will come 12 years after Kelly himself was inducted in 2002. 
"The entire experience will bring back many great memories from 2002 when so many of the Bills family -- fans, players, and staff -- joined me in Canton for one of the most memorable times of my life," Kelly said. 
Joining Kelly as an honorary captain will be Hall of Fame linebacker Harry Carson. Carson, who was inducted into the Hall in 2006, spent his entire 13-year career with the Giants (1976-88). As part of their duties, Kelly and Carson will take part in the pregame coin toss.  
Larry Hartstein has his finger on the pulse of the Bears and has a strong pick for Bears-Lions...

The Pittsburgh linebacker was placed on injured reserve Tuesday

Steelers coach Mike Tomlin wanted the Patriots and now he's got them
Brady has been reluctant to speak about his friendship with the president since the electi...

The Chargers, after starting 0-4, can take first in the AFC West with a win Sunday

The Fins wide receiver took a shot at the Pats with his touchdown celebration