Jim Kelly's human side proving to be far greater than his impressive career
Jim Kelly, the player, was great and fun to watch. But Kelly the man, and how he's handled personal tragedy and his battle with cancer, is mind blowing.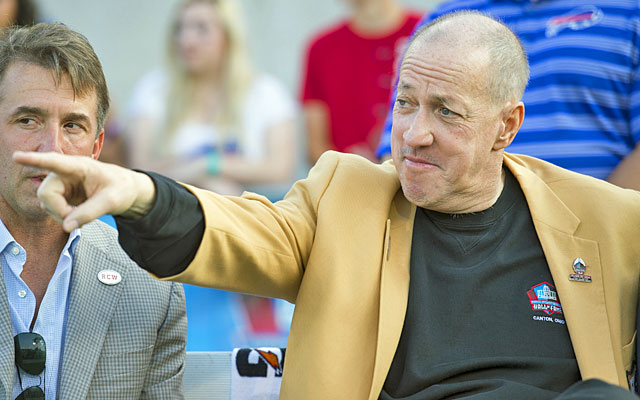 More Jim Kelly: Kelly diagnosed with cancer  |  Kelly, Reed captivate at Hall of Fame
The Jim Kelly video from this weekend was devastating, and here's why:
Well, hang on. Soon I'll explain why the Jim Kelly video was devastating to me. It was devastating to you for your reasons, and while I don't know those reasons, your devastation was palpable. I saw it on Twitter. I felt it. We all saw the same thing Sunday night when NBC used the 2014 Hall of Fame game to air a story on Jim Kelly as he battles cancer -- you can watch it (or watch it again) here -- and we were devastated together. That came a few hours after ESPN aired its own Jim Kelly video, when he talked about the only item on his bucket list: "I want to walk my two daughters down the aisle. And that's something I'm going to strive to do, if I have to crawl there."
The part that got me, that devastated me, was near the end of the NBC clip. It recapped what the Kelly family had already been through -- his son, Hunter, was born in 1997 with a fatal disease -- and showed clips of Kelly with Hunter, loving him, honoring him powerfully and emotionally at his Hall of Fame introduction in 2002.
Next we were reminded that Hunter Kelly died in 2005 at age 8. And then we were shown the rest of the story, how Jim Kelly has continued to work with kids suffering from the same illness, an appalling, incurable affliction called Krabbe disease. We saw Kelly, his hair almost gone from chemotherapy, smiling nice and easy as he walked up to a little girl in a wheelchair. Unable to move or talk because of Krabbe disease, the girl communicates in the only way she can -- she's moaning as Kelly gently strokes her head (3:40 mark) and tells her it'll be all right.
Any idea how devastating, how impressive, even how intimidating that is to me? Everyone is wired differently, but people like Jim Kelly are the ones who fire me up, shame me down, blow me away. People like Jim Kelly make me star-struck, and it's not the football. All due respect, when you're born with the physical gifts of Jim Kelly, greatness is an easy choice to make. Greatness is fun, rewarding. So it doesn't blow me away when a guy like Jim Kelly makes that choice.
Jim Kelly the man, on the other hand, is different. That's different, because he's a lot like you and me. Got married, had kids. Been there, done that. One of his kids was born with a deadly illness. That wasn't me or my kids, but it could have been. Years later Kelly himself was stricken by a potentially deadly illness. That hasn't been me, but it could be. We'll see.
What I'm saying is, Jim Kelly the football player, like LeBron James in basketball and Derek Jeter in baseball and Bill Gates in technology, is a fantasy. That was never me. It was never going to be me. How deeply moved am I supposed to be by such unattainable greatness?
But Jim Kelly, the man, is real. And how he has handled Hunter's tragedy, how he has handled his own, how he has continued to be strong for his family as they deal with his illness -- and how he has continued to be strong for other kids and their families as they deal with Krabbe disease -- is shocking and uplifting. It blows me away. Intimidates me, shames me, but in a good way. No reason I can't be as good or as strong as Jim Kelly, though I know in my heart I'm not.
Let me tell you the last time I was this star-struck: It was September 2011, and the Cincinnati Enquirer had run a story on Sharon Everett, who had been badly burned years earlier in a car fire. The Phoenix Society, devoted to the care and advocacy of burn victims, was about to have its annual World Burn Congress in a downtown Cincinnati hotel, and the Phoenix Society had brought Sharon Everett to the hotel to speak with workers about what they were about to see, to help them be sensitive toward burn victims.
The story blew me away. Here was a woman who was burned beyond recognition, and her response to that cruelty was to continue living, leading, helping others. Sharon Everett was a star to me, as the school teachers who have taken care of my kids over the years are stars. What they do, they do for love and not money. They are selfless and it blows me away. Shames me, too. What have I ever done, know what I mean? What have you done?
So anyway, a week after reading about Sharon Everett, I was downtown for the World Burn Congress. Had to see this event for myself -- and who do I see? Of all people?
Walking down Elm Street -- walking right up to me -- was Sharon Everett and her family. I recognized her from the picture in the paper. Blown away, humbled, I introduced myself and basked in the glow of that star human being.
Some people would act that way if they bumped into their favorite athlete, but Sharon Everett had that effect on me. So too would Hunter Kelly's father, if I'm ever lucky enough to bump into him.
Stay alive, Jim Kelly. Do it for yourself, your family, your friends. Do it for your fans, like those people who lined the hospital exit in May as you left another radiation treatment. Do it for Hunter's Hope, the foundation you and and your wife started years ago to raise funds and awareness for kids like Hunter.
Do it for me. My bucket list is short, but meeting you is on there.
Pick Six Newsletter
Get the day's big stories + fun stuff you love like mock drafts, picks and power rankings.
Please check the opt-in box to acknowledge that you would like to subscribe.
Thanks for signing up!
Keep an eye on your inbox for the latest sports news.
Sorry!
There was an error processing your subscription.
Oakland is willing to deal just about anyone and everyone not drafted by Jon Gruden

Before we turn the page to Week 7, let's look back at some of the worst decisions of Week...

Everything you need to know for the showdown of old NFC rivals
Allen passed away on Monday due to complications from non-Hodgkin's lymphoma

The Buccaneers almost pulled off a miracle on Sunday

RJ White has his finger on the pulse of Aaron Rodgers and the Packers