Jimmy Haslam: This isn't Hollywood, Johnny Manziel is the backup QB
Browns Jimmy Haslam delivered some important messages on Monday: Cleveland isn't Hollywood and Johnny Manziel might not be the Browns starting quarterback in 2014.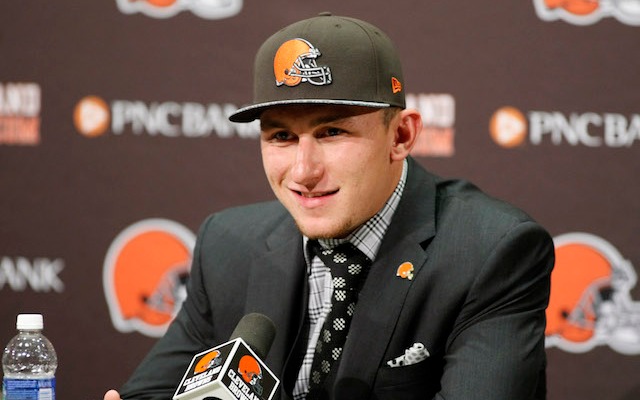 Draft coverage: Picks and grades | Prospect Rankings | Sam goes No. 249 | News
Johnny Football might be 'Johnny Carry the Clipboard' in 2014. Just because the Browns spent a first round pick on Johnny Manziel doesn't automatically make him the starter in Cleveland and Browns owner Jimmy Haslam made that clear on Monday. 
"Brian Hoyer is the starting quarterback. It's his job to lose," Haslam said, via the Cleveland Plain Dealer. Hoyer replaced Brandon Weeden in 2013 and went 3-0 as the Browns starter before tearing his ACL in Week 5.  
Besides naming Hoyer the starter, Haslam also pointed out that Cleveland's not Hollywood -- just in case there was any confusion. 
"We were frank with (Manziel) on Friday that's the expectation, you're the backup quarterback," Haslam said. "This is a hard-working, blue-collar town, this isn't Hollywood. We want you to come in and go to work."
Hoyer might be the starter right now, but that doesn't mean he'll be the starter for the regular season opener in September. When asked about the quarterback situation on Monday, center Alex Mack didn't sound as sure as Haslam did about who the starter is.   
"I think good old Johnny Football is going to be a good addition to Cleveland," Mack said, via NFL.com. "Don't know who the starter is going to be, though."
If the Browns can't decide who to start at quarterback, Haslam could reach out for advice to the homeless guy who told him to draft Manziel. That guy seems to know what he's talking about. 
It's been a rough Sunday night for the Raiders

From London to Sunday Night Football, teams around the league demonstrated in response to...

The Raiders reportedly wanted to stay in the locker room, but came out to avoid a 15-yard...
Here are the Week 3 grades for every team that played on Sunday

Plus questionable coaching decisions, refs cost Lions a win and more on Week 3 from Jason La...

The Saints coach is the latest to weigh in on Trump's comments