J.J. Watt can't find a girlfriend, calls dating life 'unsuccessful'
Finally something J.J. Watt struggles with: his dating life.
It is not difficult for athletes to find love interests. Or at least it shouldn't be. And yet, here's All-Universe defensive end, Texans superstar, face of the NFL and 26-year-old eligible bachelor J.J. Watt saying he just can't find a girlfriend.
Watt revealed in an interview with Mike Silver of NFL.com that he's not dating tennis star Caroline Wozniacki and is actually "unsuccessful" in attempting to court the ladies.
"People [I know] think that I've never dated before, or whatever," Watt says. "But I'm trying. I'm trying. I'm just unsuccessful. My schedule's so crazy and life's so busy, it just hasn't worked."
Watt actually revealed he gets lonely at times "would love" if he had a wife and kids. 
"Trust me, I would love to have a wife and kids. I would very much enjoy that," Watt said. "But I also know that you have to be in the right place to do that. You have to find the right situation, and you have to be in that right mindset where you can give everything you have to that. Because whatever I do, I want to be the best at. I want to be the best husband. I want to be the best father.
"And I need to make sure that I have figured out the proper balance in my life so that I can give the proper time and energy that's needed for that situation." 
OK, now it's impossible not to imagine Watt in his kitchen, stretching out his arms and telling his kids "ALL I KNOW IS YOU MESS WITH ME, YOU'VE GOT PROBLEMS."
The actual reality of the situation is that Watt's worried how his life now -- NFL superstar, etc. -- will compare with his post football life and how someone else will handle it.
"See, like, when I picture myself after football, it's down home, coaching high school football, just a relaxing, normal life," Watt said. "And the problem with that is, I still have this life now. So you can't have somebody that's just gonna be OK in that life, 'cause you have to deal with all this craziness right now. So it'd have to be somebody that's OK with the craziness now, but also is gonna be perfectly fine sitting on the couch watching a movie on a Friday night, having a bonfire on a Saturday night, not doing anything. And that's hard to find." 
Here's what I would tell Watt (and anyone else who is successful professional in their mid-20's): soak in your life now. Enjoy being single, doing whatever you want whenever you want and being largely free of responsibility to others. 
Being married is awesome -- and being a dad is literally a life-changing experience -- but there's a certain sweet spot, age-wise, that you'll never get to enjoy again.
Plus, in Watt's case, pretty sure he can get dates without too much trouble. This whole interview is going to send the women of Houston into a frothing frenzy.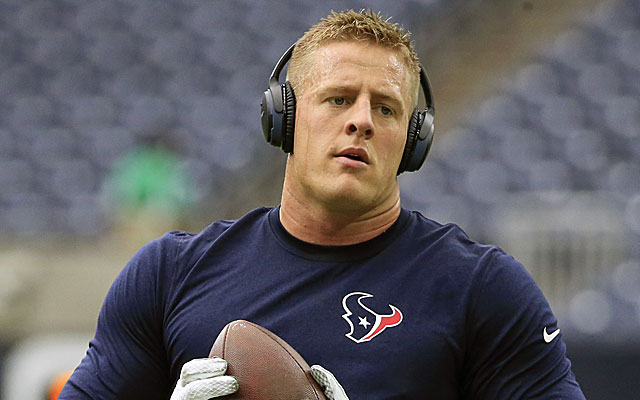 Warren Sapp was one of several players named in a lawsuit against NFL Network

Check out the uniforms that Denver and Indianapolis will be wearing on Thursday

The Cowboys are going to need a few things to go their way to get into the postseason
Rudolph will be put under the microscope in Mobile by clubs looking for a quarterback early...

This fan is taking the Saints to court for using 'football games as a platform for protest...

Can Aaron Rodgers get the Packers to the postseason? Even if they win out, they'll need he...