Joe Flacco had no intention to miss game vs. Patriots
Despite suffering a knee injury vs. the Lions Monday night, Joe Flacco never wavered in his intentions to suit up vs. the Patriots, Jason La Canfora reports.
• 1 min read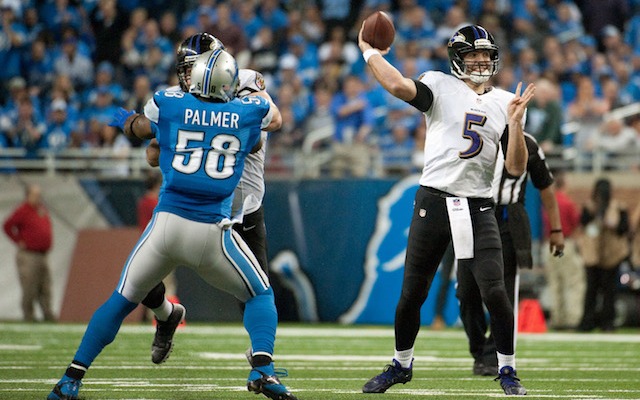 For more news and notes from Jason La Canfora, tune into The NFL Today Sunday at noon ET on CBS.
Ravens quarterback Joe Flacco was unwavering in his intent to play this week, according to team sources, after suffering a minor knee injury late in Monday night's win at Detroit. Flacco was struck low in his knee and an MRI revealed a minor sprain, very similar to one he played through in college at Delaware, sources said.
Flacco was fitted for a brace and while the knee is a little loose, team trainers were impressed by his ability to function at practice and Flacco has maintained throughout the week that the injury would not impact his ability to play. Contrary to a report, the Ravens always intended for him to have an MRI on the knee and Flacco was confident he could manage the discomfort and play throughout the week. While he was limited in practice, sources said the ball still had sufficient zip on it and he could fire through his throws when need be.
Flacco took comfort in the fact he persevered through a similar ailment in college and, if need be, the Ravens could run some Wildcat formations with backup quarterback Tyrod Taylor in certain downs and distances, which they did earlier in the season but which is not expected to be a part of the gameplan today.
Flacco has never missed a game since entering the NFL as a first-round pick in 2008, and has been relatively healthy throughout, with a big and durable frame and mindset intent on taking every snap possible. Flacco played through a bothersome hip injury in 2009, and is not overly concerned with this knee injury, sources said.
The first-year cornerback has not been active in four weeks and drew a suspension earlier this...

McCown will help the coaching staff work with Bryce Petty and Christian Hackenberg

The Browns have a long way to go to be AFC North champs
Five selections against the spread for the upcoming Week 15 slate of NFL games

Here are 10 things to watch in Week 15, including a hot Bortles, a cold Brady and a new Eagles...

A couple of potential playoff teams have trouble covering against cellar dwellers in Week...