Joe Namath on Johnny Manziel, 'I'd love him on my team'
Joe Namath, who knows a thing or two about wild off-the-field behavior, says that he'd love to have Johnny Manziel on his team.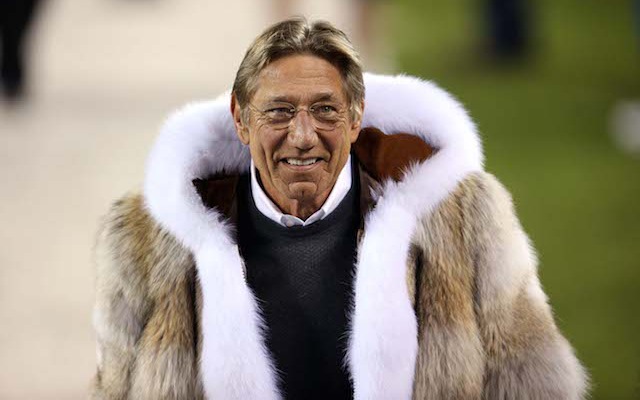 More NFL offseason: League minicamp dates | Latest news, notes
Before there was Johnny Football, there was Broadway Joe. Like Manziel, Joe Namath was just as famous for what he did off the field as what he did on the field.
No, Namath was never photographed sipping champagne while laying on an inflatable swan, but he did sit poolside at Super Bowl III, a game where he guaranteed the Jets would beat the heavily favored Colts. At one point during his career, Namath also owned a bar. 
As you might have guessed, Broadway Joe doesn't have any issues with Manziel's wild side. Namath told NFL Network on Monday that Manziel should just 'live his life.'
"I do know that we love entertainment. Football is a sport, but it is show biz. It is entertainment. And Johnny -- he's gotta live his life, man. Give him some room," Namath said. "I've been to Vegas, you guys have probably been to Vegas. Give the man a little bit of room. But, in his position, he's not entitled to be a regular guy, 22 years old, 21 years old. Everything's blowing out of whack."
Everything with Manziel might be 'blowing out of whack,' but Namath would still want Manziel on his team. "I'd love him on my team, let me just say that," Namath said. 
Broadway Joe was then asked if he had any advice for Johnny Football. 
"I don't want to get on the wrong side of the media," Namath said. "I would tell Johnny, 'Don't read about yourself, don't watch things that have to do with you and the Cleveland Browns.' Johnny, you know what you're doing, you know what your team is doing; trust in that. I'd tell Johnny, just go ahead and live his life and make sure he does what's right with his team and society. He'll be cool."
Half the reason Manziel-mania is so big is because of social media sites like Twitter, Facebook and Instagram, where pictures of Manziel show up all the time.
So could Broadway Joe have been Broadway Joe in this era?
"I would have had to adjust. No doubt, I wouldn't have been the same guy," Namath said. "Kind of stayed in a shell to some extent. It wouldn't have been the same."
Welcome to the NFL's version of a dress rehearsal

It sure sounds like the players are planning for a work stoppage when the latest CBA expir...

One of the league's best players is still looking for a new long-term contract
'It's completely different,' Wentz says about entering his second season with the Eagles

Tavon Austin, Matt Kalil and Joe Flacco headline our list of the NFL's most player-friendly...

Richardson has played for four NFL teams, and hasn't appeared in an NFL game since 2014