Joe Theismann: Redskins backup QB Kirk Cousins has outplayed RG3
If there was an actual quarterback competition going on in Washington, Joe Theismann says Kirk Cousins would be the clear winner.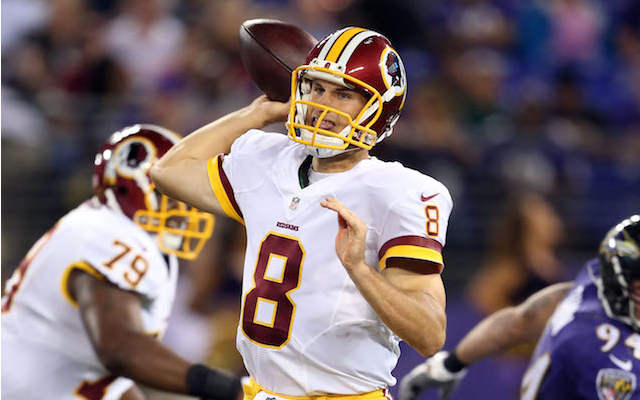 During his introductory press conference in January, new Redskins coach Jay Gruden made one thing very clear: Robert Griffin III is the team's starting quarterback. 
Since that day seven months ago, Gruden has stuck to his guns and RG3 has been the undisputed starter. However, at least one person thinks Gruden needs to rethink his stance and that person is former Redskins quarterback Joe Theismann. 
After watching Griffin play against the Ravens on Saturday, Theismann said it's clear who the better quarteback has been this preseason -- and it's not RG3. 
"Let's stop beating around the bush," Theismann told the Washington Post in the fourth quarter of Saturday's game. "Kirk Cousins has played much better at the quarterback position than Robert Griffin III has. Now, Robert is learning to work out of a pocket. He doesn't look as smooth or as comfortable throwing the football. I mean, your eyes will tell you everything you need to know."
Griffin threw for 20 yards in the Redskins 23-17 loss while Cousins threw for 122 yards and two touchdowns against the Ravens backups. Cousins' peformance has been good enough this preseason that Theismann believes if there was an actual competition going on, Cousins would have already won it.  
"It's going to be a decision that Jay Gruden is going to have to make. Right now, Robert Griffin III is his quarterback. Now, if there was a quarterback competition, it wouldn't be a competition. Kirk Cousins would be the man I believe he would have to go to, because of the efficiency with which he has run [the offense]," Theismann said. "Now Kirk, like I said, is basically a drop-back quarterback. I see Andy Dalton in Cincinnati, I see Kirk Cousins that way."
Theismann, who works for Redskins Broadcast Network, also added that he thinks there's "going to be a lot of conversation after this football game regarding the quarterback position."
There was conversation after the game, but that's not when it started. ESPN.com's Mike Reiss, who covers the Patriots, wrote on Aug. 10 that Cousins was clearly the better quarterback. Reiss saw both guys in action when the Redskins and Patriots practiced together. 
Our very own Ryan Wilson wrote two weeks ago that the Redskins could have a problem on their hands if Cousins is better than RG3 -- and that appears to be the case at this point. 
Gruden now has two weeks and one preseason game to decide if he's going to stick with RG3 or give Cousins a chance at the starting job. 
Everything you need to know about the Packers-Panthers game on Sunday afternoon

The Lions will be wearing their Color Rush uniforms for the first time on Thursday

The Lions look to maintain playoff positioning while the Bears attempt to play spoiler
The Panthers have hired an outside law firm to conduct the investigation

Here's every official injury designation for each NFL team for Week 15

Bennett was one of the few players who escaped punishment after Sunday's melee in Jacksonv...