John Elway: TE Julius Thomas not at the level of Jimmy Graham
If Broncos tight end Julius Thomas thinks he's going to get paid Jimmy Graham money, he probably should have a chat with John Elway.
• 1 min read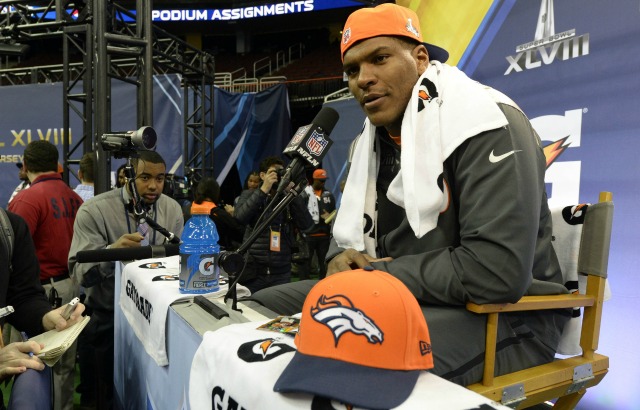 More NFL: Photos |   Videos & GIFs |  Stories | Training Camps | Johnny Manziel watch 
If Broncos tight end Julius Thomas thought Jimmy Graham's new four-year, $40 million contract was going to pave the way for him to get something similar, general manager John Elway provided a cold dash of perspective on Wednesday.
Talking to USA Today's Lindsay Jones, Elway said, "Even though Julius had a tremendous year for us, he's only [played] 23 games. We want Julius to be a Bronco for a long time and we think he has tremendous upside, but he's not at that level."
So, um, damn. That's that, I suppose.
Elway was discussing how the team has made contract offers to Thomas and standout receiver Demaryius Thomas -- who likely WILL receive a big raise on his next deal. Both are entering the final year of their rookie deals, and though Julius Thomas had the best season of his career in 2013 (65 catches, 788 yards and 12 touchdowns in 14 games), he hasn't established himself as one of the best tight ends in the game.
Thus, it sounds like Elway isn't interested in paying him like one.
Also, since Graham was ruled to be a tight end and not a receiver, Julius Thomas' representation likely will have to temper its expectations that he can expect to make a ton of money on his next contract. Elway said he hasn't heard back from the tight end's representatives -- probably, he thinks, because they were waiting for the Graham numbers to be released.
Further complicating matters for Thomas ...
In case you were curious, Jimmy Graham took 33% of snaps last season as an in-line TE. Julius Thomas: 72%.

— Pete Damilatis (@PFF_Pete) July 16, 2014
Meanwhile, Demaryius Thomas is coming off back-to-back 90-plus catch seasons to go with a combined 2,860 yards and 24 touchdown receptions in the past two years. He's probably about to get paid a huge amount of money on his next contract.
"Nothing is going to get done before camp, but we'll keep talking to them in camp," Elway said. "I'm never going to go into the season, but the first couple of weeks, we can continue to talk about it. After the second week of the preseason, we'll want to have had something done, one way or another."
Jeremy Lane also stood near Bennett along with pass rushers Cliff Avril and Frank Clark

Bennett also dedicated it to 'all of the other athletes using their platform to promote ch...

The Patriots quarterback shows commitment from Day One
Cardinals' running back says he's feeling more energized

The Vikings' receiver is wearing his heart on his foot

The Ravens need help on the offensive line after dealing with injuries and a surprise reti...