John Madden on RG3 benching: It's baloney, Redskins are 'dysfunctional'
Long time broadcaster and NFL Hall of Famer John Madden called the Redskins a 'dysfunctional group' on Wednesday and said Mike Shanahan's decision to bench RG3 is 'baloney.'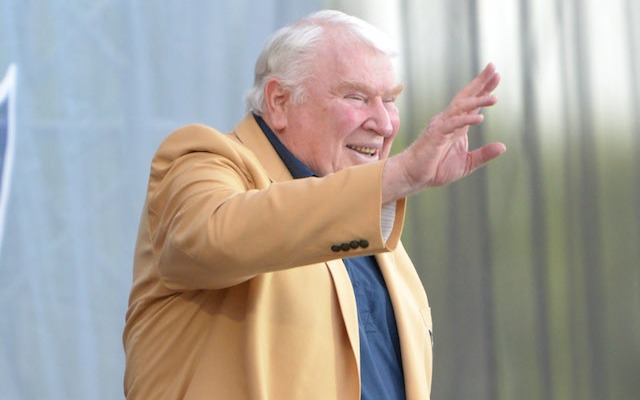 At least one former NFL coach doesn't agree with Mike Shanahan's decision to bench Robert Griffin III for the rest of the season: John Madden. The NFL Hall of Famer had some harsh words for Shanahan on Wednesday. 
During his weekly spot on SiriusXM NFL Radio, Madden called Shanahan's decision to bench RG3 for health reasons 'baloney.' Madden also said that Shanahan's decision hurts the integrity of the game. 
"I mean, you know it's baloney," Madden said, via the Washington Post. "I like Mike Shanahan, and I'm not talking behind his back, but when you say something like that, you know that's not right -- you're not going to sacrifice regular season games. There's only 16 of them a year. You're not going to sacrifice regular season games for an offseason program."
The Redskins have turned into a soap opera this season, something that Madden has noticed. 
"I think it's a dysfunctional group," Madden said. "I don't understand what they're doing. It's hard to take 'well we're watching out for RGIII's health and his welfare.' You know, if you felt [that way] about his health and welfare, you probably would have done something about it a year ago, or maybe even earlier in the season, when he started the regular season without any preseason practice."
If Griffin is the best quarterback on the Redskins roster and he's healthy, then he needs to be the starter, according to Madden. Otherwise the Redskins are hurting the integrity of the game. Griffin said on Wednesday that he 'expressed his desire to play' to Shanahan before he got benched.
"We have an integrity piece here too," Madden said. "You can say well they're 3-10, they're out of it, so now they can do these things. No you can't. This is still regular-season football. Draft order, that's one small thing, but you still owe it to the people that are playing, that are still in the playoff picture. And when you can affect that and you don't affect it with an all-out performance, then I think that affects the integrity of the game... If you're in the regular season, there's only one way to play, and that's to play your best people to win the game, every regular season game."
It's surprising to see the usually mild-mannered Madden go after someone like this, especially with this strong of an opinion. Not only did Madden call Shanahan's decision baloney, but he called the Redskins dysfunctional and said Shanahan was affecting the integrity of the game. 
If Shanahan needs some advice this offseason, he probably shouldn't call Madden. 
Danny Amendola got to celebrate the Patriots' big win with a former Miss Universe

The former Tom Brady backup earns a ton of money because he was on the Patriots' Week 1 ro...

The Titans' new coach was answering a question on how college schemes would affect his sco...
The Patriots were called for only one penalty in Sunday's AFC Championship game

Foles' deal had some stipulations, one of which voids the last three years if he's an Eagl...

Check here for the latest news, rumors and updates for NFL coaching changes and searches