John Mara: Coughlin not on hot seat but isn't immune to losing job
Giants owner John Mara isn't thinking about possibly making a coaching change at this moment.
• 3 min read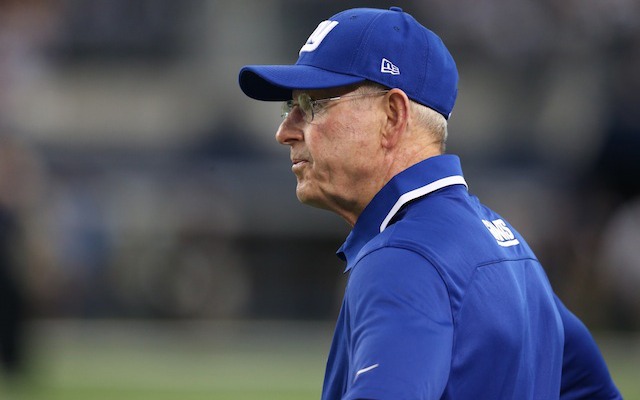 More NFL: Photos |   Videos & GIFs |  Stories | Training Camps | Johnny Manziel watch 
This seemingly has to happen every few years. Where the job security of Giants coach Tom Coughlin, after his team goes through a dry spell, is questioned, and when fans wonder whether the team would be better off with somebody other than the league's oldest coach.
Then, usually, Coughlin wins a Super Bowl or something.
But after the team's 0-6 start in 2013 and its 7-9 finish in which New York placed third in the NFC East and didn't make the postseason for the second-straight season, those questions apparently have to be asked again.
"There's never a hot seat for anybody," Giants owner John Mara told the New York Post's Steve Serby. "Listen, everybody knows what the expectations are, and … we expect to win, and if we don't, then you have to make changes. But the question is when do you make those changes? That's the toughest decision that you ever have to make. Do you do it after one bad season, do you do it after two? …
"I think it's a feeling that you have that can we win with this individual or this group of individuals, or do we have to make changes? And, I have never once felt that we can't win with Tom Coughlin and his staff. I know he believes it, and he's able to convince the rest of us that we're going to win. That's the furthest thing from my mind right now, is making any changes anywhere."
But has the 67-year-old Coughlin, especially after helping bring two Super Bowls to the club, earned the right to decide when he should leave his job?
"Does anybody ever earn that right?" Mara asked. "That's just not the way this business is in this day and age. Let's hope that it goes that way, but we haven't even had that discussion yet."
Mara brings up an interesting point. Has any coach in the league actually earned the right to walk away when he wants and not be threatened by a potential firing?
Bill Belichick, probably. Though you have to wonder if the Patriots were to average, say, a 6-10 record in the next five years, would owner Robert Kraft think about firing him? Anybody other than Belichick who would be safe for however long he wants? I'm agreeing with Mara and saying no.
Either way, Mara says he doesn't think 33-year-old Eli Manning, who threw a league-leading 27 interceptions last season, is in decline. And he still believes in Coughlin, who received a one-year contract extension in February, and his team's ability to make the postseason in 2014. But what if Coughlin doesn't make the playoffs?
"I don't want to get into speculation about that," Mara said. "Then that ends up being an ultimatum that 'Make the playoffs or else.' Listen, we expect to make the playoffs, but I'm not going to sit here and tell you that if we don't, I'm going to make sweeping changes, because I don't know what the circumstances are going to be. You could be 11-5 and not make the playoffs -- do you make changes then? You can make the playoffs at 8-8 like we did one year and then go out in the first round -- do you feel better about yourself under those circumstances? So it's very difficult to answer that question, put a specific number on it."
Either way, Coughlin shouldn't feel too comfortable. Certainly not as comfortable as, say, Belichick. 
The people of Philadelphia now have two reasons to root for the Eagles this week

You might not recognize the Patriots' defensive coordinator without his beard

T.O. definitely isn't a fan of the Cowboys head coach
R.J. White, who nearly won the Vegas SuperContest, locks in his pick for the AFC Championship...

This player probably won't be too popular in New England if the Patriots lose on Sunday

The connections between the Eagles and Vikings quarterbacks are endless