John Moffitt deal to Cleveland rescinded, heading to Denver now
John Moffitt's trade to the Browns was rescinded and now the former Seahawks offensive lineman is heading to Denver in his second trade of the past 24 hours.
Hopefully Seahawks offensive lineman John Moffitt, who Jason La Canfora reported was dealt to the Browns on Monday, didn't book a flight to Cleveland. Because he's headed to Denver instead.
The Broncos announced that they traded for Moffitt on Tuesday, as the Browns and Seahawks had their deal rescinded less than 24 hours after the teams agreed to move Moffitt. Reportedly the deal fell through because Moffitt failed his physical in Cleveland.
In exchange, Denver sent defensive tackle Sealver Siliga to Seattle. Siliga tweeted that he was excited for the "new journey."
It's official just got traded to the Seattle Seahawks! Thanks denver broncos organization for everything they've done for me. New journey!

— sealver siliga (@S_Siliga) August 20, 2013
There was no tweet from Moffitt about either trade, which is really a shame because his Twitter profile pic is both amazing and terrifying.
Lost in all this @Moffitt74 trade business is fact he has a pretty amazing Twitter profile pic: pic.twitter.com/WSQZ6vYZoe

— Will Brinson (@WillBrinson) August 20, 2013
Seattle felt they had sufficient depth at the guard position to move Moffitt, a third-round pick in the 2011 NFL Draft, to beef up their defensive line.
Originally they planned to receive Browns defensive end Brian Sanford in exchange for Moffitt but that deal fell through. 
Denver needs the offensive line depth and Moffit provides that, along with the added bonus of being a stand-in for John Snow from Game of Thrones: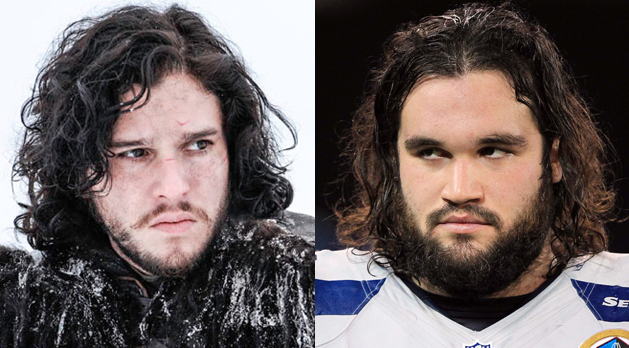 The Eye on Football podcast brings you the best NFL analysis money doesn't have to buy. Subscribe on iTunes here!
This might go down as the best ending of the 2017 season

The Raiders beat the Chiefs, 31-30, on Thursday night thanks to Derek Carr's heroics

This was easily the most exciting final 10 seconds of any game in the NFL this season
Everything going the Chiefs way on Thursday Night Football

Beast Mode went Beast Mode on someone he shouldn't have gone Beast Mode on

This is how you do a 99-yard touchdown drive