Johnny Manziel: Partying doesn't hurt my chances of winning Browns QB job
Johnny Manziel says he can win the starting quarterback job in Cleveland and still have a night life.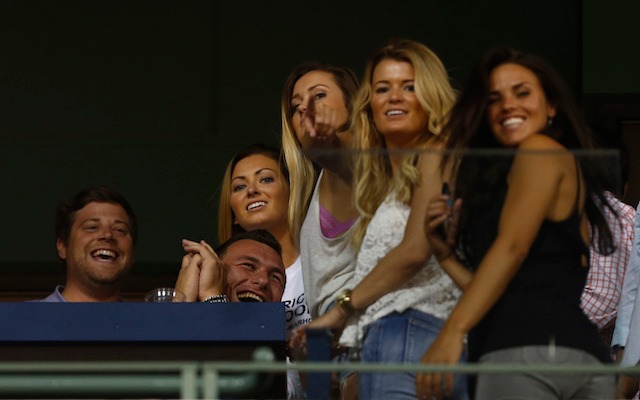 More NFL: Photos |   Videos & GIFs |  Stories | Training Camps | Johnny Manziel watch 
If Johnny Manziel loses the Browns quarterback job to Brian Hoyer, it's not going to be because Manziel has a wild social life and Hoyer doesn't.
In his first interview since reporting for training camp, Manziel said he doesn't think his offseason partying will affect his ability to compete for the Browns starting quarterback job. 
"I don't think so," Manziel  said, via Cleveland.com. "I think there are definitely things I can do moving forward to better act as a professional and at the same time I'm still learning how to do that, still getting used to this role, still getting used to being a pro football player. I'm not in college anymore and there's just things I need to do better and that's just part of being a professional. Hopefully with time and as time goes on, I'll get better at doing that."
The Browns have reportedly been 'alarmed' by the amount of partying that Johnny Football did over the offseason. Manziel doesn't think there's anything alarming, but he did admit to making a few 'rookie mistakes.'
"At the end of the day, I've made some rookie mistakes," Manziel said. "There's some things that I wish I could've gone back and done a little differently, but I'm continuing to move forward and trying to represent this organization in a positive manner and a positive light, so just very excited to be back in camp and it's football 24/7 and that's what I love doing."
Manziel made major headlines over the Fourth of July when he was photographed rolling a $20 bill in a bathroom. Johnny Football was asked specifically about that incident, but only offered a vague reply. 
Is this latest picture of #Manziel rolling bills in the bathroom the most troubling we've seen so far? pic.twitter.com/uF0KwVYwA4

— TBD in the AM (@TBDintheAM) July 7, 2014
"I think I just spoke on that a little bit, that we're going to keep these things [private]," Manziel said. "I've talked about that with coach [Mike] Pettine, I've talked about it with [general manager] Ray Farmer and the people I need to talk about that with, and moving forward they're good with everything, and I've told them everything that I need to and everything's been good."
Manziel may say that everything's been good, but the bathroom incident was a big enough deal that Pettine took a break from his Hawaiian vacation to call his rookie quarterback. 
Despite everything that happened over the summer though, Manziel has no plans of shutting down his social calendar. 
"I don't think there's anything wrong with me going out and having a nightlife, having a social life. I mean I am 21 years old and I do like going out and it was the offseason," Manziel said. "It's free time for us and if I want to go out and hang out with my friends or go to nightclubs or do things like that then I think that's within my rights to be doing that and I think there's other guys throughout the league that are doing that and I'm not trying to compare myself to anybody else but I think that's within my rights to be doing that."
If Manziel's going to win the quarterback job, he's going have to do it playing from behind. Pettine has already announced that Hoyer will be the team's starter in Week 1 of the preseason.
On top of that, an anonymous Browns player went one step further on Friday, telling ESPN.com, "We're all expecting Hoyer to start" in Week 1 of the regular season.
Follow along with live updates on the AFC Championship Game between the Jaguars and Patrio...

Haley made the Steelers into one of the league's most fearsome offenses

Gronk is one of the toughest players to defend in the NFL, so how will the Jaguars handle...
Tom Brady used his injured hand to post a must-see hype video to Instagram

Robert Kraft has plenty of things to say before Sunday's AFC title game

Here we go again, the beef between McCoy and Kelly is getting going again