Johnny Manziel tweets out cell number, Twitter reacts
Johnny Manziel needs a new phone number.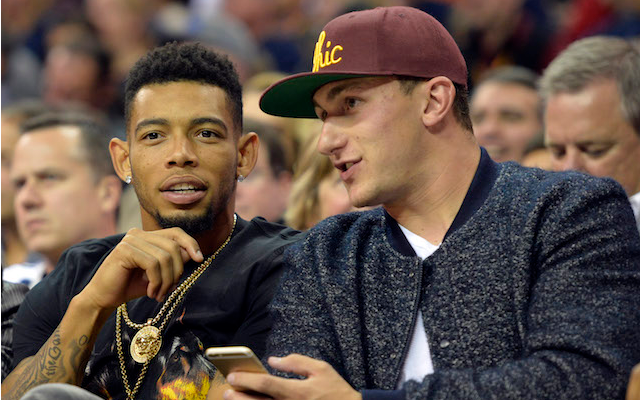 As everyone on Twitter knows, the first rule of Twitter is, "Never get your direct messages mixed up with your tweets."
If you're not on Twitter, direct message are private messages meant for one person while tweets are the messages that go out to all of your followers, which brings us to the second rule of Twitter: Never mess up the first rule of Twitter.
Johnny Manziel broke both rules on Friday. The Browns quarterback accidentally tweeted his phone number just before 7 p.m. ET. Well, it's not definitely his phone number, but it probably was because the voicemail box filled up in about five minutes and the number was disconnected less than 15 minutes later. 
As you can imagine, Manziel accidentally tweeting out his number went over well on Twitter. We're not going to publish Johnny's number here, so sorry for that, but we are going to show you how everyone reacted on Twitter. 
If you had under 10 weeks for Johnny Manziel to accidentally tweet his phone number when he thought he was sending a DM, you win.

— Peter Bukowski (@BukoTime) October 31, 2014
This might end up being a popular idea with the ladies.
I definitely just got Johnny Manziel's number. Just in time for me to call him and tell him I'm being him for Halloween!

— Morgan Moriarty (@Morgan_Moriarty) October 31, 2014
I'm not going to completely discount this theory. 
Johnny Manziel tweeted a San Antonio number. Raiders gonna move to San Antonio and sign him. C O N S P I R A C Y. #TheTruthWillSetYouFree

— Tim Dwyer (@T_Dwyer) October 31, 2014
We probably shouldn't completely discount this theory either.
My theory: Manziel tweets out Hoyer's number. Hoyer gets finger cramps answering his phone. Manziel wins starting job http://t.co/fSzQuxFKVn

— John Breech (@johnbreech) October 31, 2014
Here's a list of people who actually called Johnny. 
Just called Johnny Manziel NBD

— Brody Diggins (@Digalicious7) October 31, 2014
Just left a voicemail for Johnny Manziel , lol it would be sick if he called me back .

— WESTBROOK (@RellyCooper) October 31, 2014
Johnny Manziel just accidentally tweeted out his phone number. Of course my wife and I called. And of course it was disconnected. Damn.

— Kris Paxitzis (@KrispyChicken_) October 31, 2014
Just called Johnny Manziel. Mailbox was full.

— Jamie Graning (@Graning21) October 31, 2014
Just called Johnny Manziel and he didn't answer. Thought we were buds.

— Ramsey Statz (@RamseyStatz) October 31, 2014
Yeah so @JManziel2 tweeted his number. It's not like we called it or anything.... http://t.co/QUFXMTle85

— Kimmie (@lovekimmiej) October 31, 2014
Then, there are people who actually feel bad for Johnny.
I actually feel bad for Manziel. You know how hard it is to change your cell number at 7:00 on a Friday night? -_______-

— Vincent Frank (@VincentFrankNFL) October 31, 2014
The lesson here? Don't give Twitter your phone number. 
Jonathan Martin's old high school was forced to close on Friday after he appeared to threaten...

It doesn't look like the Jaguars will be making any front office changes anytime soon
The Buccaneers quarterback received a citation after causing a car wreck February 13

It's time for NFL teams to get creative and here's some moves to make it possible

It's a nice gesture for the players to recognize the coaches that put them in position to...