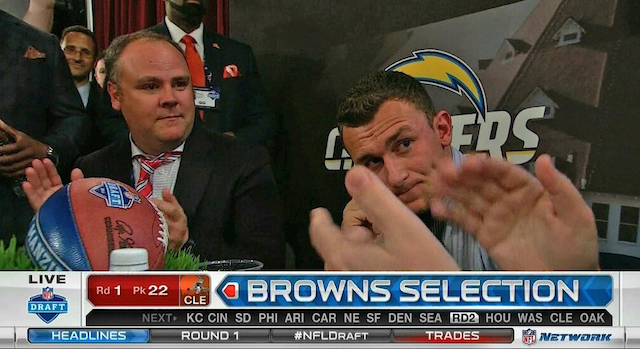 If you weren't able to watch the first round of the NFL Draft on Thursday, here's a quick summary of what you missed: The Browns made 45 trades, Johnny Manziel drank 117 bottles of water and the internet almost combusted every time a team decided to not pick Johnny Football -- something that happened a total of 21 times. 
Just for fun, lets relive Johnny's draft night. 
The real excitement started with the third pick in the draft when the Jaguars were on the clock. Jacksonville needed a quarterback and Manziel made sense. The Jaguars taking a quarterback was so obvious that Brett Favre made a video in his living room saying that the Jaguars would take a quarterback. The only question was: Which quarterback would the Jags take?
At around 8:25 p.m., Roger Goodell made his way to the podium and crushed the dreams of everyone hoping to trademark the phrase 'Johnny Jacksonville.' The Jaguars went with Blake Bortles and that's when we got our first glimpse of Johnny drinking water. Something that turned out to be a common theme throughout the night.
Manziel seemed slightly surprised by the Bortles pick. On the other hand though, his sister's smile kind of says, 'Thank God my brother's not going to Jacksonville.'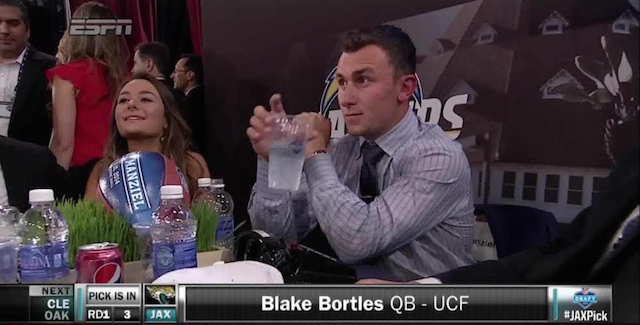 So the Jaguars didn't want Johnny Football? Big deal because the Browns would definitely take him at No. 4. 
But then the Browns did something the Browns almost never do in a draft: They made a smart move. Cleveland moved down to No. 9 in a trade with Buffalo that gave the Browns the Bills first-round pick in 2015. 
The Bills didn't need Johnny Football, so they took Sammy Watkins at four. Big deal though because the Raiders would definitely take him at five.  
But then the Raiders did something the Raiders almost never do in a draft: They made a smart move. With the fifth pick, Oakland made the most logical move: They took Khalil Mack. 
Even after the Raiders passed, there was no way Manziel was going to fall out of the top-10. The seventh, eighth and ninth picks belonged to three teams who all need quarterbacks: Tampa Bay, Minnesota and Cleveland.
As a matter of fact, 99.8 percent of all mock drafts made after May 3 had Manziel going to Tampa.
But then a strange thing happened, Manziel didn't go to Tampa. Instead the Buccaneers took wide receiver Mike Evans. At this point, a pattern officially started: A team would pass on Manziel, then a TV camera would cut to Manziel, then Manziel would drink an entire bottle of water. 
Johnny "Football" Manziel has 19 problems and they're all NFL Draft Picks. When's he going to get taken? pic.twitter.com/MPIWrwTod9

— theScore (@theScore) May 9, 2014
After the Vikings and Browns both passed on Johnny Football at eight and nine, the internet did what it does best -- and I'm not talking about pictures of cats. The internet poured gasoline on the fiery freefall that Manziel was in the middle of.
First, there was a #BeforeManzielGetsDrafted hashtag on Twitter. 
If you're not on Twitter, I'm not going to explain what that means, I'm just going to show you examples. 
Donald Sterling will host a civil rights rally #BeforeManzielGetsDrafted

— Bruin Country™ (@UCLA_Nation) May 9, 2014
OJ will find Nicole's killer #BeforeManzielGetsDrafted

— Travon Free (@Travon) May 9, 2014
With the 13th pick, there were a few whispers that St. Louis might take Manziel. But Jeff Fisher had no plans to take a quarterback, instead, he moved forward with his goal of winning a Super Bowl by coaching a team completely made of defensive lineman and the Rams went with Pitt's Aaron Donald at 13. 
The Rams have now passed on Manziel twice. Please notice in the picture below that Manziel's sister is no longer smiling. 
Johnny Manziel waiting in the Green Room. #NFLDraft pic.twitter.com/m7E2o7FWsL

— NFL Network (@nflnetwork) May 9, 2014
Was Manziel actually falling in the draft though? Or was all of this part of Jerry Jones' diabolical plan to grab Johnny Football with the 16th overall pick?
At 9:39 p.m. the Cowboys went on the clock and America was watching. Even Aaron Rodgers was interested in what was going to happen.
This should be an interesting 10 minutes.

— Aaron Rodgers (@AaronRodgers12) May 9, 2014
At 9:49 p.m., after using every last second of their 10-minute time limit, the Cowboys finally made their pick. I don't know who it was though because the internet spontaneously combusted after Goodell said a name that wasn't Johnny Manziel's. 
That's right, the Jerry Jones passed on Johnny Football and the wheels fell off the internet wagon. First up, the NFL's OFFICIAL TWITTER FEED decided to start a hashtag. 
#SadManziel???

— NFL (@nfl) May 9, 2014
After that, the hashtag was trending on Twitter. 
#BeforeManzielGetsDrafted and #SadManziel are the top trends on Twitter. Twitter, you're a harsh, harsh little world pic.twitter.com/BehKTGL5uK

— FOX Sports NFL (@NFLonFOX) May 9, 2014
What does #SadManziel face look like? Glad you asked.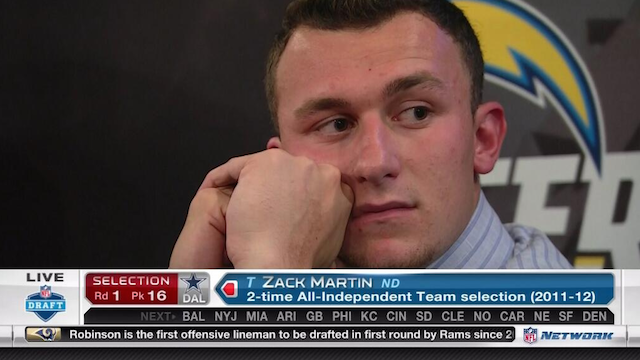 After the Cowboys passed on Manziel, an almost impossible thought became more realistic: Johnny Football could fall out of the first round.
That didn't happen though, mainly because the Browns decided they had more trades to make. At 10:43 p.m., the Browns made it official: They were jumping up from the 26th pick to the 22nd pick.
TRADE ALERT! The Browns have traded up to #22 to select Johnny Manziel! #NFLDraft #happymanziel pic.twitter.com/MFsSDUQ22H

— NFL (@nfl) May 9, 2014
Was drafting Manziel a good move? If one of the goals of the NFL is to make money, then yes. 
Within 25 minutes of Johnny Manziel pick, #Browns had sold 200 new season ticket accounts and had 300 renewals.

— Tony Grossi (@TonyGrossi) May 9, 2014
Oh, and now that we have hindsight, it's probably for the best that Manziel didn't end up in Dallas. He agrees.  
Manziel on possibility of joining Cowboys: "I don't know if the world could've handled that, to be honest."

— Ross Jones (@RossJonesFOX) May 9, 2014
After Manziel was drafted, this fact was pointed out by Pro Football Talk:
Johnny Manziel plays 13 games this year against teams that passed on him.

— ProFootballTalk (@ProFootballTalk) May 9, 2014
What PFT forgot to mention though is that MANZIEL IS PLAYING FOR A TEAM THAT PASSED ON HIM. So practices could definitely get awkward. 
That's the story of Johnny's draft night. Whatever happens next Browns fans, just make sure you keep Manziel away from LeBron. 
EXCLUSIVE: LeBron already telling Manziel how to leave Cleveland. pic.twitter.com/2fsciCCztj

— SportsNation (@SportsNation) May 9, 2014