Johnny Manziel's rookie season looks bleak if Browns lose Gordon
If Cleveland wide receiver Josh Gordon is suspended for all of 2014, Johnny Manziel might get a rude introduction to the NFL.
• 7 min read
Draft coverage: Picks and grades | Prospect Rankings | Sam goes No. 249 | News
I am a big Johnny Football guy; I made that pretty clear in the months leading up to the draft. I would take a shot on the kid and would have taken a shot on him pretty high in the draft if I were a team like Cleveland, Oakland, Jacksonville or Tennessee that lacked not only a quarterback, but an identity and a vibrancy and relevancy on field and off.
But I have some concerns about how this will play out, given the events of the past few days. If the Browns do in fact lose emerging top-five wide receiver Josh Gordon to a yearlong suspension, don't kid yourself, it will likely damn their season. That is a massive, massive blow for a team that lacks anything else above average in the receiver position, especially considering offensive coordinator Kyle Shanahan's scheme. Add in the fact the Browns didn't draft a receiver and that tight end Jordan Cameron might still be a bit of a question mark from a health/durability standpoint, and Manziel could find himself devoid of weapons while playing in one of the most physical divisions in the NFL.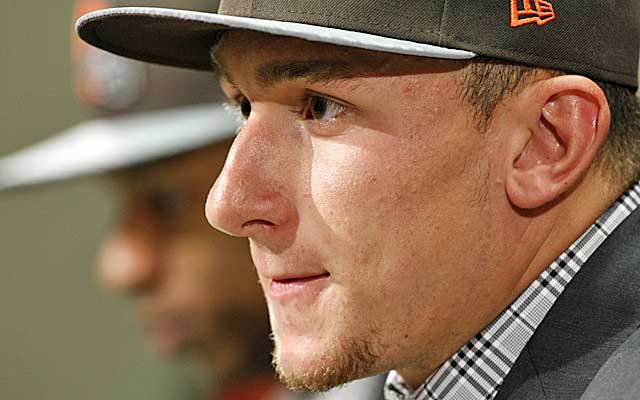 From everything I have heard, the Browns trading down to No. 9 was done with their fingers crossed that Texas A&M receiver Mike Evans might slip (but he want to Tampa Bay at 7, as many expected). So they took a corner instead after making a curious trade up to 8, and then never addressed receiver. But, as one veteran scout noted, "one of the primary reasons Manziel was so successful throwing the deep ball in college was that he had Evans to go up and get whatever he threw," and now sans Gordon, Manziel could be bereft of playmakers.
"If they don't have Gordon, they are [screwed]," one GM said. "Look at Shanahan's system -- it's all about the 'X.' He has Andre Johnson and they went and got Pierre Garcon in Washington and now they might not have that guy. If you don't have a top-flight 'X' in Kyle's offense, there is no way to clear it out. I don't know how he's going to make it work."
As for the JFF and RG3 comparisons, scouts have noted to me how much more elusive Manziel is. "He thinks more like a running back than Griffin, much more," one personnel man said. "Griffin is a straight-line track guy, and that's part of the reason he'll get hurt more. Manziel plays quarterback like a running back."
But without a receiver who commands significant attention from a secondary, the Browns might be facing some less-than-stellar matchups at the line of scrimmage and that might allow teams to sell out even more to try to attack Manziel.
We'll find out over time if adding another tackle -- Joel Bitonio on Day 2 -- rather than a potentially elite receiver, turns out to have been the way to go.
Big reaches of the draft
I asked a few evaluators I really trust about moves they believed were reaches. Several pointed to the Bears taking defensive tackle Ego Ferguson ("I actually preferred the other tackle at LSU on film," was a refrain I heard more than once, in reference to undrafted LSU tackle Anthony Johnson, whose drop had to do with off-field concerns, I'm told).
The future of defensive tackle Ra'Shede Hageman will be much debated, too. He was a polarizing prospect heading into the draft; I continued to hear respected evaluators dispute his merits and more than a few believe he has bust potential. Hageman went high in the second round to the Falcons, who badly needed pass-rush help.
I'm going to keep a close eye on Bengals third-round pick Will Clarke, as well. The West Virginia defensive end had a fifth-round grade from some teams I spoke to. After being picked through a bit in free agency, Cincinnati is going to need guys like Clarke and 2013 second-round pick Margus Hunt, another end, to contribute. Without Mike Zimmer leading that defense anymore, that could prove a bit more difficult.
Could, woulda, shoulda …
One of the great things about the draft is you never know what could have been -- had one team just made one pick a little differently. Then obviously different players would have fallen to different spots and the entire tenor of the event, and how it plays out over time, would have changed.
For instance, I'm told the Jaguars resisted several opportunities to trade out of the third overall pick, where they selected quarterback Blake Bortles. Teams were interested in moving up to grab a receiver like Sammy Watkins or tackle Jake Matthews or linebacker Khalil Mack, but the Jags were steadfast. The selection of Bortles that high is certainly being debated in some rival front offices, but Jacksonville was steadfast.
The Browns were very close to completing deals with the Cowboys at 16 and the Titans at 11.
Sources said if the Patriots did not take oft-injured Florida tackle Dominique Easley late in the first round, then Seattle was very likely to use the final pick of that round. Instead, Seattle traded down to 40, then eventually dealt back again before finally selecting.
Arizona would have taken linebacker Ryan Shazier if he were still there at pick 20, I was told, but with the Steelers taking him at 16, the Cards began attempts to trade down, and they succeeded.
Extra points
• Even in the wake of their tumultuous offseason and all the supposed angst about what to do with troubled pass rusher Aldon Smith, the signal the 49ers sent to the rest of the NFL this weekend was that they're not going to sweat "character" all that much. The selection of Aaron Lynch said as much to the rest of the league. "They don't care about that [stuff] at all," one exec said. "They don't give a [crap]. That Lynch pick said it all. I'm not even saying they should, because what they're doing has worked. But don't give me this BS that you do, or you're there to reform the kid."
• I still can't help but think Kyle Fuller will end up being the best cornerback of this historic group of defensive backs, with nine going in the first round. Browns coach Mike Pettine was convinced corner Justin Gilbert was the only fit in his system and the only corner who could give him what he needs, hence the surprising swap with Minnesota of the eighth and ninth picks, but several evaluators I spoke to believed Fuller was equipped to play press man. Would the pick of a receiver like Odell Beckham end up paying better dividends over time?
• It was clear the Dolphins were locked in on offensive linemen. Period. Board be damned. Have had several people pan their draft to me. We'll see. I do know that if they had not taken tackle Ju'Wuan James at pick 19, he was very likely going to Carolina at 28.
• Speaking of that pick, I love the 49ers picking up Clemson offensive lineman Brandon Thomas in the middle rounds. Sources said Thomas was on course to be the favorite to be Carolina's pick at 28 before tearing his ACL in a pre-draft workout for the Saints.
• Every year, I am among those caught up believing the Steelers might draft a corner in the first round, but like a fool, I should know by now linebackers will always be their lifeblood, as the Shazier pick showed. Hearing a lot of love for that selection in scouting circles.
• One last thing on the Browns -- I would have tried to add a few years to quarterback Brian Hoyer's contract long ago. He is due to make only $1 million in 2014 and then becomes a free agent. There have been no extension talks. With Johnny Football now in town, why would Hoyer sign one? I think he can be a winning quarterback and I'm not alone, but he's stuck now. Manziel will play right away; it's hard to imagine a scenario where he does not. The Texans still look plenty QB needy to me, and sources have continued to tell me the much-rumored Ryan Mallett to New England deal is only rumors. So, if I'm the Browns, I try to shop Hoyer to Houston (actually I would have started after Day 1 of the draft). Because you're just going to lose Hoyer in January anyway at this point, without getting anything but a comp pick in return, and you can't convince me he isn't already one of the best 32 QBs in the league. Hell, I believe he's in the top 20. Just hasn't had a big enough window to show what he can do.
• Have a feeling at least two teams in the AFC East will be looking for new head coaches and GMs following the 2014 season, and that doesn't include the Jets, where head coach Rex Ryan's job security has long been in debate. This draft could end up leading to more changes with Buffalo and Miami if it doesn't bear some immediate fruit.
The Cowboys running back now looks like a tank

Former Atlanta sportswriter Larry Hartstein knows the Falcons and locked in a pick for 'Monday...

Let's examine Sashi Brown drafts during his time as Cleveland's GM to decide if John Dorsey...
This was definitely one of the weirdest things to happen in Week 15

This might be the one guy who actually understands the catch rule

Jackson is 1-29 since becoming the Browns coach in 2016