Johnson, Hasselbeck lead Colts to win over Texans: 5 things to know
The Colts secured their 16th consecutive victory against a divisional opponent.
It took until Week 5, but the old hands finally showed up for the Indianapolis Colts. Every player involved in a scoring play during Indy's 27-20 win over the division-rival Houston Texans was at least 32 years old.
Wow. #INDvsHOU pic.twitter.com/vr1tOrv1b5

— NFL (@NFL) October 9, 2015
Fittingly, the big star was wide receiver Andre Johnson, 34, playing against his former team for the first time. Johnson spent the first 12 season of his likely Hall of Fame career in Houston, and he's no stranger to big games in NRG/Reliant Stadium. He finished this one with six catches for 77 yards and two touchdowns, the seventh time he has recorded multiple scores in that building.
Only fitting that Andre Johnson scores his first TD with the @Colts at his old stomping grounds. #TNF pic.twitter.com/qPu0ciFQ3y

— NFLonCBS (@NFLonCBS) October 9, 2015
Johnson had barely been involved in the offense over the past couple of weeks as he saw his role and playing time dwindle. He was targeted only three times combined in Weeks 3 and 4, and he didn't catch a single pass in either game. He finally showed up for this one, and the performance was much needed.
The man throwing Johnson those passes, somewhat unexpectedly, was 40-year old Matt Hasselbeck. Andrew Luck sat out once again with a shoulder injury, so Hasselbeck -- who was in the hospital for much of the early part of this week, couldn't even talk in Wednesday's meeting and was still suffering from a bacterial infection Thursday -- filled in. He acquitted himself very nicely, finishing 18 of 29 for 213 yards and the two touchdown passes to Johnson. He had a ton of time in the pocket all night, and he made the most of it by hanging in and waiting for receivers to shake open. He also sealed the win with a perfect deep ball to T.Y. Hilton on a late third down.
Hasselbeck was helped by the fact that Frank Gore, 32, finally got going with a big night of his own. Gore, who had averaged 3.8 yards per carry or less in three of the Colts' first four games, wound up carrying the rock 22 times for 98 yards (4.5 yards per carry) in this one, and he also added Indy's other touchdown.
Three combined touchdowns from the Hasselbeck-Johnson combo and Gore brings us to 18 points, which of course means there were nine left over. Those came off the leg of kicker Adam Vinatieri, 42, who converted three PATs and knocked both of his field-goal attempts through the uprights.
The Indianapolis defense struggled to contain the Houston passing game, but the old-man-led offense was good enough for it to not matter by the time the final whistle blew. This is still a team with issues, most notably Luck's health, but they've now won three games in a row, all against teams within the division. This particular win was the Colts' 16th in a row against an AFC South opponent, a new NFL record for consecutive intradivision wins.
Next week brings a matchup with the New England Patriots, and the Colts can only hope Luck's shoulder heals some time in the next 10 days.
Here are a few more things to know about the game.
2. Let's play musical quarterbacks: That's what Texans coach Bill O'Brien is doing here, right? As our Jason La Canfora wrote earlier in the week, Houston's QB situation is the worst/weirdest in the NFL. In fairness, O'Brien did eventually take JLC's suggestion to go back to Brian Hoyer -- he just did it in the strangest way possible.
Ryan Mallett looked perfectly fine early on in the game. He was 7 of 10 for 51 yards and an interception, but the pick came on a pass that hit Arian Foster in the hands and should have been a sure first down and maybe more. However, Mallett got injured and had to come out for a few plays ...
... at which point Hoyer came in, led the Texans right down the field and never came back out. He finished the game 24 of 31 for 312 yards, two touchdowns and a pick. He peppered the ball to DeAndre Hopkins (11 receptions for 169 yards) and Foster (9-77) all night, but his eyes turned to a rookie playing his first career game when it was time to hit paydirt.
3. Jaelen's strong debut: Is there any better way to make a splash than catching a touchdown on your first two career targets? I don't think so. Especially when one of them is a 42-yard Hail Mary to end the half. 
0:00 left on the clock? HAIL MARY TIME! Hoyer throws it up...Jaelen Strong brings it down. TOUCHDOWN! #INDvsHOU http://t.co/8ypzODSlFE

— NFL (@NFL) October 9, 2015
Catch a Hail Mary? Yep. Catch a TD the following quarter? Jaelen Strong is starting to be a problem #INDvsHOU #TNF http://t.co/yHSYshkNTb

— NFL (@NFL) October 9, 2015
The final line for Jaelen Strong: two catches, 53 yards and two TDs. Pretty good, young man.
4. Where's J.J.? This may just have been the quietest game I've ever seen from J.J. Watt. The Colts were double- and triple-teaming him on pretty much every snap, sure, but every team double- and triple-teams Watt on pretty much every snap. Watt finished this night with just two tackles, neither of which went for a loss; he didn't sack the quarterback and hit Hasselbeck only one time as well. Very uncharacteristic game for the NFL's best defensive player.
5. It takes two to make a win go right: Both interceptions for Indianapolis came from safety Mike Adams, who just so happened to be in the right place at the right time, twice. The first was on a tipped pass that went through Arian Foster's hands and landed directly in Adams' waiting arms. The second came on a play where Hoyer had about eight seconds to find a receiver, but none shook open, so he just let the ball fly down the field when a rusher was closing in on him. The ball was nowhere close to an intended target, and dropped right into Adams' lap.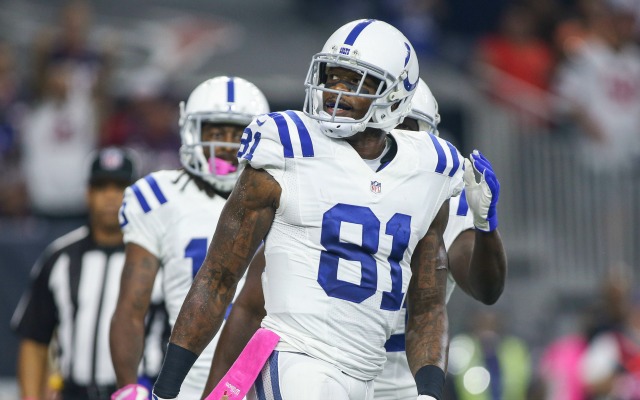 Pick Six Newsletter
Get the day's big stories + fun stuff you love like mock drafts, picks and power rankings.
Please check the opt-in box to acknowledge that you would like to subscribe.
Thanks for signing up!
Keep an eye on your inbox for the latest sports news.
Sorry!
There was an error processing your subscription.
The Cowboys coach only has one year left on his contract

John Mara seems to be getting tired of all the off-field headlines Odell Beckham is genera...

Drew Brees could join an exclusive club this week with a win over the Ravens
Plus more revelations from the Boston Globe's deep dive into Hernandez

The Raiders coach probably won't be spending much time on this website

The Falcons have another player heading to injured reserve